Top 3 Procedures That Can Complement a Facelift
Posted by Dr. Sam Rizk June, 06/02/2020 - 01:52 PM
We often see patients who are interested in a mini or a full facelift. This surgery can help correct signs of aging in the cheeks, lower face, jawline, and other areas that don't usually respond to other types of treatment. With this in mind, patients can take advantage of having surgery to address other ficial concerns on the same day, for an overall fresh and restored appearance.

Dr. Rizk, a double board-certified facial plastic surgeon in NYC, is a leading specialist who has performed thousands of facelifts. Dr. Rizk examines patients during consultations, listens to their concerns and suggests a treatment plan that may include procedures that complement your facelift.
Are All Facelifts the Same?
The term facelift is used to describe a type of procedure that aims to tighten skin on the face while trimming off any excess skin. However, there is no "best way" to perform this surgery. The best facelift technique will depend on the surgeon's expertise, the complexity of the case, and the patient's goals. Dr. Rizk typically repositions muscles and droopy tissues as part of his facelifts to achieve long term results. .
Procedures That Can Complement Your Facelift
Rhinoplasty (nose surgery) can help patients correct aspects of their nose that are aesthetically displeasing. Whether it's size, shape, or both, a nose job can help patients achieve their cosmetic goals and raise their self-confidence. Rhinoplasty procedures can be performed along with facelifts in order to avoid two separate recoveries. These two procedures tend to produce excellent results when paired.
While facelifts provide some degree of improvement in the neck area, having a neck lift at the same time can improve the results of both surgeries. It's common for patients to have a facelift only to realize that a neck lift would have been ideal in terms of overall appearance rejuvenation. Therefore, ask Dr. Rizk about the possibility of having both procedures performed at once.
Also known as blepharoplasty, eyelid surgery can improve the appearance of hollowed eyes and droopy eyelids. While a facelift will provide improvements in the eye area, a dedicated eyelid procedure can help address more complex problems and rejuvenate the eyes as well as the face.
Learn More About the Best Procedure Combinations
If you want to learn more about the best procedure combinations to address your aesthetic concerns, book a consultation today by calling 212-452-3362.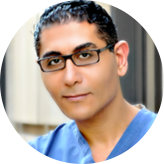 By Dr. Sam S. Rizk, M.D., FACS.
Dr. Rizk is a double board-certified facial plastic surgeon who specializes in rhinoplasty surgery and a recognized expert on the latest advances in facial plastic surgery techniques. He performs a range of facial plastic surgeries at his New York practice.