What is the Deal with Men & Facelift Surgery?
Posted by Dr. Sam Rizk April, 04/11/2014 - 10:00 AM
In recent years, more and more men have been seeking cosmetic surgical procedures, including facelift. Like women, men usually decide to undergo facelift to maintain a youthful appearance as they age. However, they often seek facelift surgery for additional reasons as well. Many men opt to have a facelift because they want look young, strong and competitive in today's tough job market. Facelift has provided a refreshed, youthful appearance to thousands of such men, allowing them to feel more confident in their daily lives, when meeting with colleagues and clients, and when searching for employment.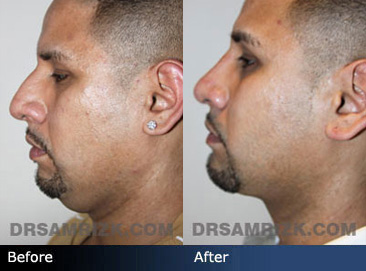 When Is Male Facelift Performed?
Male facelift is advisable when non-surgical methods such as lasers and fillers no longer suffice. This can happen in a patient's 40s, 50s or 60s, when the effects of gravity, sun damage and/or genetics take over. Dr. Rizk may perform a full facelift, mid-facelift or lower facelift, depending on the degree of aging and the patient's cosmetic goals. The effects of a male facelift can last a decade or longer.

Male Facelift vs. Female Facelift
Though men who are considering facelift share the desire female patients have for a more youthful appearance, there are also some key differences to consider, both in terms of goals and the surgery itself.
Male skin is thicker and heavier than female skin, and there is more blood supply to the male face due to the hair-bearing skin. Men have larger faces and stronger ligament supports. As a result of these and other factors, male facelift poses unique challenges to the surgeon performing the procedure. For example, blood pressure must be monitored closely to minimize the risk of hematoma.
The goals of a male facelift also differ from those of a female facelift. Most men seek a contoured jawline and neck but want to avoid a feminized appearance.
In addition, there are psychological considerations specific to men. Dr. Rizk will discuss this with you in your initial consultation.
Most facelift patients — male and female — undergo a midline muscle tuck as part of the procedure; this technique involves the use of a small telescope inserted through an incision under the chin. But because many men are also concerned with the appearance of the neck, male face lift is often combined with neck lift as well, in which case the platysma muscle of the neck will be pulled and tightened. (Some women also benefit from a combined facelift-necklift procedure.)
The good news for male facelift patients is that they often experience less bruising than female patients do. Male patients also respond particularly well to Dr. Rizk's rapid recovery techniques.
Why Choose Dr. Rizk for Male Facelift?
Prospective facelift patients seek the services of Dr. Rizk for a variety of reasons. For starters, he is known for his talent and artistic eye. Dr. Rizk is also known for the care he takes to ensure not just a positive outcome but also a rapid recovery from the procedure. To accomplish this, he employs advanced techniques and uses state-of-the-art equipment, which allow for more precision and less downtime.
Another reason to choose Dr. Rizk for your male facelift is that he has extensive experience not just in facial plastic surgery but also performing facelift for men. Dr. Rizk has an excellent track record with this procedure, including complex cases. He performs male facelift on a regular basis.
How Does Dr. Rizk Performs Male Facelift?
Dr. Rizk uses many different types of male facelift techniques, but the goal is always to ensure a quick recovery with results that are lasting and appear natural. He attempts to achieve a "face-edit," as opposed to a total transformation of the face.
Dr. Rizk's male facelift technique differs from the techniques used by other surgeons in that it addresses deeper tissues by going beneath the muscle to move it back to its former position. The result is less swelling, bruising and scarring, because less tension is placed on the outer layers of skin. Excess skin is trimmed away after the deeper tissue is lifted.
A male facelift performed by Dr. Rizk typically achieves a softer, more natural look and provides definition to the jaw and neck, while avoiding an overly tight appearance.

Each male facelift procedure is unique. It is impossible to know what techniques will need to be used in your case until you undergo an examination.
If you would like to schedule an appointment to find out which techniques Dr. Rizk believes are most appropriate for your case, contact our office today.