Why You Should Understand the Cosmetic Code of Practice Before Surgery
Posted by Dr. Sam Rizk February, 02/18/2020 - 08:07 PM
Plastic surgery is becoming more and more popular. The techniques and skills have advanced greatly over the years and most plastic surgeons aim to enhance their patients' natural beauty and meet their expectations with beautiful, natural-looking results. When you are considering a certain procedure and want to choose the right plastic surgeon, there are some factors you should take into account. NYC double board-certified plastic surgeon Dr. Sam Rizk explains why you should understand the cosmetic code of practice before surgery.
Preparing for Cosmetic Surgery in NY
When you are considering plastic surgery it is important to research your doctor and his practice. First of all, you can check if the doctor is board-certified. You can look for certifications from the American Board of Plastic Surgery or American Board of Facial and Reconstructive Plastic Surgery. Board-certification means extensive training and excellent preparation to perform plastic surgery. Other important things to check are if a doctor is experienced in the exact procedure that you want to undertake. During a consultation, you can ask how many similar procedures are performed per year, look at before and after pictures of patients, and read reviews.
What is the Cosmetic Code of Practice?
The largest plastic surgery specialty organization in the world is the American Society of Plastic Surgeons (ASPS). It was founded in 1931 and represents 93% of all board-certified plastic surgeons in the U.S. The mission of ASPS is to advance quality care to plastic surgery patients by encouraging high standards of training, ethics, physician practice and research in plastic surgery. Their code of ethics regulates and ensures the moral conduct of all its members.
Why You Should Understand the Cosmetic Code of Practice Before Surgery
Dr. Sam Rizk advises all patients to read the code of ethics carefully before surgery. Board-certified plastic surgeons should not only have medical competence but ethical competence as well. The code of ethics provides guidelines and binds a practitioner to comply with a set of principles to ensure the best patient care, as well as to protect the patients' human rights. It also enforces disciplinary actions if a plastic surgeon should violate any of the regulations. It is important to understand the cosmetic code of practice before surgery so that you are well informed of the standards your surgeon is obligated to meet.
How Dr. Rizk Incorporates the Cosmetic Code of Practice in his New York Office
New York double board-certified facial plastic surgeon Dr. Rizk is dedicated to enhancing the natural beauty of his patients and helping them meet their cosmetic goals. He uses his medical expertise, customized treatments, latest techniques, and ethical conduct to reach the best possible level of patient care. Dr. Rizk´s New York office is designed with special attention to detail, safety, and comfort as top priorities.
Furthermore, excellent care is provided with special attention to your needs by Dr. Rizk's highly trained and experienced staff.
Why Choose Dr. Rizk for a Surgical Procedure in New York?
When you consider a cosmetic procedure, the first step is to book a consultation with a doctor you trust. NYC double board-certified facial plastic surgeon Dr. Rizk is an internationally renowned expert in facial plastic and reconstructive surgery. Dedicated to helping patients achieve their aesthetic goals, he offers his medical expertise while adhering to a strict code of ethics. Book a consultation to discuss a procedure and the cosmetic code of practice in detail.
Related Blog Posts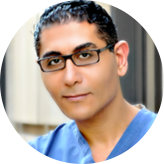 By Dr. Sam S. Rizk, M.D., FACS.
Dr. Rizk is a double board-certified facial plastic surgeon who specializes in rhinoplasty surgery and a recognized expert on the latest advances in facial plastic surgery techniques. He performs a range of facial plastic surgeries at his New York practice.