How the "Tweakment" Trend is Reshaping the Way People Approach Facial Rejuvenation
Posted by Dr. Sam Rizk September, 09/27/2019 - 01:31 PM
The technology behind cosmetic procedures advances at a fast pace, leading to the development of innovative treatments over a short period of time. Keeping up with these beauty trends can be difficult, especially if there are different imperfections you want to address. Recently, a new cosmetic trend known as "tweakments" has gained popularity as it reshapes the world of cosmetic procedures.
Dr. Rizk, an NYC double-board certified facial plastic surgeon, believes that all patients should be able to choose procedures that offer natural-looking results without requiring extensive recovery periods or causing pain. The following are some essential benefits of performing Tweakments, which are smaller scale, natural-looking treatments to subtly improve one's appearance.
Defining the Tweakment Trend
Before going into the positive effects of this new trend, it's important to define the tweakment movement. Decades ago, the goal of cosmetic procedures was to have a specific facial structure or body type. Today, celebrities and most other people are more interested in accentuating their natural beauty. They are also looking to avoid drastic changes that are made through complex surgeries that require extensive downtime.
This is the mentality that has fueled the popularity of tweakments in New York, which aims to produce natural results, reverse light signs of aging, and highlight a person's natural beauty without making any major changes to the face or body. Not only this, but tweakments also tend to be fast procedures that don't require too much recovery time, if any at all.
How is the Tweakment Trend Reshaping the World of Plastic Surgery?
Tweakments in NYC can be either surgical or non-surgical, but these procedures tend to be extremely effective without putting a lot of stress on the patient's body. This new beauty trend is changing the world of plastic surgery because it advocates:
Natural Results
The idea of a tweakment procedure is that it leaves you with a slight but noticeable improvement of your appearance. One of Dr. Rizk's biggest goals when performing tweakment procedures in NYC is to achieve natural-looking results. Most patients don't want to look like a new person or drastically change their facial structure. Through fat transfer and other non-surgical procedures, your forehead and other parts of the face can look younger without extensive surgery.
Little to No Downtime
Finding the time to carry out a major procedure isn't always easy. Tweakments, on the other hand, don't generally have downtime so you can continue your usual routine uninterrupted while still improving your appearance.
Patient Comfort and Reduced Side-Effects
Small NYC tweakments like otoplasty surgery, commonly referred to as ear pinning, can have a profound effect without producing intense pain or discomfort. At the same time, these procedures have a low chance of producing side-effects or unwanted results.
Choosing the Best Facial Plastic Surgeon for Your Tweakment Procedure
Tweakments are creating a new beauty trend that focuses on highlighting each individual's unique appearance while keeping patients as comfortable as possible. Dr. Rizk is a double-board certified facial plastic surgeon that has spent the last two decades mastering surgical and non-surgical treatments that produce excellent results without relying on intrusive or time-consuming approaches. If you want to learn more about his work, contact his practice to book an appointment today.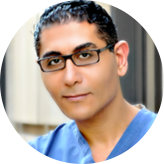 By Dr. Sam S. Rizk, M.D., FACS.
Dr. Rizk is a double board-certified facial plastic surgeon who specializes in rhinoplasty surgery and a recognized expert on the latest advances in facial plastic surgery techniques. He performs a range of facial plastic surgeries at his New York practice.