Plumper Lip Craze
Posted by Dr. Sam Rizk March, 03/01/2016 - 09:00 AM
Each year, more and more people decide to seek the services of facial plastic surgeons, whether it be for invasive procedures like facelift and rhinoplasty or less invasive treatments like Botox injections or facial fillers. Over the past couple of years, reality TV and social media have contributed to this trend, particularly among young adults, or "Millennials."
The plumper lip craze is a good example of a fad that recently sprung up due to the influence of reality TV and social media. This craze has certain downsides. For example, over the past year many teens have fallen victim to a dangerous trend that caught like wildfire on social media: the so-called "Kylie Jenner lip challenge."
Selfies and Social Media
The meteoric rise of selfies on social media has had the effect of making people more cognizant of the way they look. Many people begin to obsess over the way they look in pictures posted to social media channels. Eventually, they may seek out aesthetic enhancement for the purpose of improving their reputation among friends and connections on social media.
Enter the lips. Alluring images of pouty lips are far more likely to be "Liked" or ReTweeted. And this makes sense because, on a subconscious level, full, pillowy lips are associated sexuality according to many medical experts and psychologists.
The "Kylie Jenner Lip Challenge"
But the place where social media, selfies aesthetic surgery meet can be a dangerous one. Among other things, this phenomenon has caused teens who are not old enough to be considered candidates for plastic surgery to become obsessed with it.  This was thrown in stark relief last year when hordes of teens responded to selfies of reality TV star Kylie Jenner's lips by participating in an ill-conceived trend in order to be like their idol. This trend first gained steam when a social media user posted a video to social media channels in which she placed a glass over her lips for five minutes in order to create an airlock that would plump up the lips, so that they would look like Kylie's. The trend caught on and, sadly, the result was a lot of bruised teenage faces.
Dangers of Kylie Jenner Lip Challenge
 Participating in the Kylie Jenner Lip Challenge is potentially dangerous for several reasons. First, the suctioning induces negative pressure which leads to "vessel engorgement." In other words, the blood vessels fill up with blood, in turn initiating an inflammatory rush of chemicals. The chemicals rush into the soft tissue and cause swelling. If a participant sucks hard enough, the delicate blood vessels in the area may burst, which is what causes the bruising. Light-skinned participants are all the more susceptible to this effect.
How long is it safe to place a shot glass over your lips and suck vigorously? Better not to even entertain the idea. Let's just say the full minute many participants have attempted has caused a lot of permanent damage. Even if your vessels don't burst, the effects of the half-baked Kylie Jenner lip challenge won't last long.
 Safer Alternatives for Plumper Lips
 With so many crazy fads floating around on social media these days, it is all the more important to seek out a reputable facial plastic surgeon to perform any facial enhancement procedure, regardless of how invasive it is. Good plastic surgeons will take extra care to discourage their patients from obsessing over selfies and warn them of the dangers associated with trends like the Kylie Jenner lip challenge.
Assuming that you are not obsessed with selfies, and simply want to achieve a slight enhancement of your lips, you may be a good candidate for a procedure called lip lift. This procedure is very popular among patients who are tired of having to have treatments like facial filler injections every few months. Dr. Sam Rizk has developed a revolutionary lip lift procedure that rejuvenates thinning lips and produces more fullness as well as a better shape. Dr. Rizk's lip lift can extend the borders of the lips, even out asymmetries, shorten the distance between the nose and the upper lip that inevitably occurs with aging, and address drooping corners.
To learn more, contact the office of Dr. Sam Rizk today.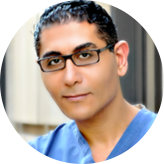 By Dr. Sam S. Rizk, M.D., FACS.
Dr. Rizk is a double board-certified facial plastic surgeon who specializes in rhinoplasty surgery and a recognized expert on the latest advances in facial plastic surgery techniques. He performs a range of facial plastic surgeries at his New York practice.