Brow Lift vs Upper Eyelid Surgery: Know The Difference
Posted by Dr. Sam Rizk December, 12/06/2021 - 08:13 PM
Your eyes are often the one of the first giveaway signs of aging when you are in your 30's and 40's. Eyelids begin to droop, and together with the famous 11 between the brows, an angry or tired look may form. 
Dr. Sam Rizk is a double-board certified facial plastic surgeon who has helped many patients regain their youthful radiance and confidence with the help of cosmetic surgery. Below, he compares brow lift and upper eyelid (blepharoplasty) surgery.
Which Procedure Should You Get?
Your eyes play an important role in non-verbal communication.  It is therefore important to consult a board-certified plastic surgeon to advise on which procedure will work best for you based on the desired aesthetic outcome. An experienced surgeon can carefully examine the eye area and identify the source of your aesthetic concern – the eyelid or the eyebrow. In some cases, the reason for a heavy eyelid is a droopy eyebrow. In others, the eyebrow is well situated and the eyelid needs to be addressed. 
Brow Lift
This procedure aims to reposition the brows to achieve a younger and more naturally radiant appearance that complements the rest of the face. Brow lift surgery is suitable for individuals who have low brows or experience sagging due to age and gravity. It is best suited for women and men who are 40-65 year old.
By tightening your forehead's skin, wrinkles disappear and higher placed brows give you a younger, more alert look.
vs
Upper Eyelid Surgery (Blepharoplasty)
This procedure is commonly performed in patients who suffer from droopy eyelids and bags under the eyes. This surgery can also be performed to improve the symmetry of the eyelid "open the eyes", and can improve vision in patients whose droopy eyelids obstruct their visual field.
Upper eyelid surgery involves the removal of excess skin, muscle and fat from the upper eyelid. It remodels the underlying bulges caused by fat.
Choose Your Facial Plastic Surgeon Wisely
Dr. Rizk has seen many patients at his NYC office. Often, people consult with other specialists who did not undergo the same in-depth training as Dr. Rizk and lack an understanding of facial anatomy. In some instances, patients think they need an upper eyelid surgery, when what they really need is a lateral brow lift to correct previous cosmetic surgery, whereby they had incorrectly removed more upper eyelid skin than was needed. 
We therefore encourage you to thoroughly research the procedures, as well as the skill and expertise of your surgeon.  
Brow lift and upper eyelid surgery are very complex procedures and need to be performed with excellent planning, surgical precision, knowledge of advanced techniques, and post-surgery care.
Contact our office if you would like to schedule an appointment and discuss how Dr. Rizk can help you achieve a more youthful and radiant appearance.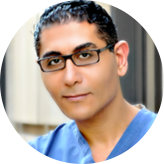 By Dr. Sam S. Rizk, M.D., FACS.
Dr. Rizk is a double board-certified facial plastic surgeon who specializes in rhinoplasty surgery and a recognized expert on the latest advances in facial plastic surgery techniques. He performs a range of facial plastic surgeries at his New York practice.