Just When You Thought It Was Safe to Snap a Selfie… Jaws!
Posted by Dr. Sam Rizk November, 11/02/2018 - 12:00 AM
Newsflash: defined jawlines are in-demand.
A finely chiseled 'superhero' jaw has always been coveted among men, but now growing numbers of women are seeking jaw-sculpting procedures.
This uptick is likely due in part to … you guessed it… social media. We can now scrutinize body parts via selfies that we never really paid attention to before, and photo-editing apps can give us a better idea of what these features could look like with some nips or tucks.
Dr. Rizk responds:
The jaw does change with age. We lose collagen and elastin, two of the main proteins that give skin its youthful properties, and we also lose bone. As the jaw scaffolding disappears, jowling and sagging in the lower face occur.
There are many options to help refine the jawline. Some nonsurgical treatments include energy-based devices that tighten tissue and boost collagen supply under the surface, Coolsculpting, which freezes fat cells to death, recently got a US Food and Drug Administration nod for treating the submandibular area of the jawline – or the areas under the jaw on the sides of the face. This technology is already approved for freezing fat directly under the chin. The new indication may provide for a more comprehensive rejuvenation in the jawline area without surgery. Kybella injections can also melt fat underneath the chin, but this technique takes multiple sessions and there is considerable downtime after each treatment.
All of these treatments can make a noticeable difference in jawline aesthetics, but surgery is the only way to address all of the issues causing jowling and sagging. In my practice, we routinely perform full facelifts or lower facelifts to help tighten and define the jawline. (Full facelifts address the mid-face as well as lower face, jowls, and neck.) If a patient has a small chin or if the lower portion of the jawbone lies behind the lips and the lower lip becomes more prominent than the chin, a chin implant may help refine and define the jawline.
If you are concerned with the look of your jawline, schedule a consultation with a board-certified facial plastic surgeon. He or she will perform a thorough evaluation and present you with all of our options.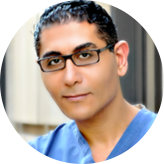 By Dr. Sam S. Rizk, M.D., FACS.
Dr. Rizk is a double board-certified facial plastic surgeon who specializes in rhinoplasty surgery and a recognized expert on the latest advances in facial plastic surgery techniques. He performs a range of facial plastic surgeries at his New York practice.