Mounting Pressure: Are "Fix Me" and Similar Apps Positive?
Posted by Dr. Sam Rizk December, 12/06/2019 - 07:34 PM
Social media platforms like Facebook and Instagram are extremely popular and there's no denying the effect they've had on global human culture. In addition to communicating with loved ones who are far away and sharing parts of your life, these platforms also feature filters that allow you to edit your image.
Recently, many of these filters have made headlines because they alter images to make it look as if users have had cosmetic procedures. However, these tend to drift from the main goal of plastic surgery and other cosmetic treatments. Below, Dr. Rizk, a double board-certified facial plastic surgeon in NYC, shares his thoughts on Fix Me, as well as similar cosmetic apps and discusses the real goals that plastic surgery can help you achieve.
The Goal of Cosmetic Procedures
Before going over the effect of Fix Me and similar cosmetic apps, it's important to understand the real goal of cosmetic procedures. These treatments are designed to help people treat imperfections that they are not happy with, which potentially cause insecurities and reduce their quality of life. Cosmetic procedures should not be performed because of social pressure or to feel like you are part of a movement; they are personal choices that should be made by each patient individually.
How Social Media is Changing Perceived Body Image
Billions of people use social media platforms every day in countries across the world. Not only have these channels become a popular pastime but they also impact the way we perceive beauty and how we form opinions of the people around us. As a matter of fact, research carried out in 2016 found a relationship between activities on social media, such as scrolling through your feed, and users having negative thoughts about their bodies.
Are Cosmetic Apps a Good Thing?
Cosmetic apps like Fix Me are designed to show the markings required for procedures such as facelifts and rhinoplasty. Other mobile apps also show users what they would look like after the procedure. However, both of these steps require the discerning eye of a facial plastic surgeon and complex pieces of software in order to produce accurate results. If you want to learn more about specific treatments and the realistic results they can achieve, you should consult with a certified physician that specializes in facial plastic surgery in NYC.
Learn More About Achieving Your Cosmetic Objectives in NYC
Mobile apps related to cosmetic procedures can create false expectations and alter your body image. While everyone has unique features that make us individuals. Cosmetic procedures allow you to address elements you're not happy with, however, they should not be conducted because of social pressure. Dr. Rizk, an NYC facial plastic surgery specialist, listens to his patients' cosmetic goals and takes their features into consideration to set realistic expectations of the results that can be achieved.
To learn more about Dr. Rizk and his work, get in touch with his practice and book a consultation today.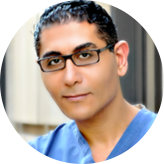 By Dr. Sam S. Rizk, M.D., FACS.
Dr. Rizk is a double board-certified facial plastic surgeon who specializes in rhinoplasty surgery and a recognized expert on the latest advances in facial plastic surgery techniques. He performs a range of facial plastic surgeries at his New York practice.