RAPID RECOVERY FACIAL PLASTIC SURGERY
Posted by Dr. Sam Rizk June, 06/20/2018 - 06:34 AM
Today, people want to get back to their busy lives as quickly as possible today after all forms of facial plastic surgery. This is especially true with men, but with women as well. One week to ten days is often the maximum tolerance for downtime. As a facial plastic surgeon, I do everything in my power to meet those goals for all of my patients.
My combination approach incorporates a very strategic and judicious placement of incisions and homeopathy so that patients can return to their lives and looking refreshed and more youthful. Lifting skin alone will result in an unnatural tight look that is very dated by today's standards, like the 'wind tunnel' look that was prevalent in the 80s and 90s. I always aim for face and neck lifts to look subtle with results that can last for about ten years, and for patients to be socially presentable within one week. I will take extra time to carefully and artistically reshape the jowls, improve the nasolabial folds, remove excess fat under the chin and tighten lax skin of the face and neck.
One of my signature techniques is a deep lift using a natural vector of elevation (vertical for the face, horizontal for the neck) that results in less bruising. Most bruising occurs due to trauma in superficial blood vessels under the skin, so we do everything possible to avoid this from occurring. Reestablishing a youthful look by repositioning drooping tissue to its original form takes skill and experience. We will also reposition the cheek fat pads right under the cheekbone to eliminate hollows under cheekbones. It should be noted that smaller incisions will result in undetectable scars as well as the preservation of the hairline, which is a critical factor in face and neck lift outcomes.
Homeopathic Healing
I am a huge advocate of homeopathic therapy to assist patients in recovering from bruising and swelling after surgery. We use a combination of natural herbal compounds both applied externally and taken orally before and after surgery. Faster healing time is among the top concerns of facial plastic surgery patients because they are all very busy and are eager to return to their public lives as quickly as possible. In addition, homeopathic remedies like Arnica Montana and Bromelain, Vitamin C and Hyaluronic Acid can speed healing after surgery. These supplements are recommended for all types of facial surgery to prepare the body with what is needed for optimal healing before any surgical intervention.
In some cases, we may also recommend Hyperbaric Oxygen Therapy to increase oxygen to facial tissues and stimulate the growth of new blood vessels to promote faster healing. This treatment offers patients an additional option for quicker recovery from facial and neck lift surgery and is an excellent addition for patients who tend to bruise easily and who have a limited recovery time available. It can speed postoperative swelling and healing by several days to weeks in some cases.
Another adjunct to facial plastic surgery that can aid with healing tissues is the addition of fat grafts. We will take the patient's own fat, spin it down and prepare it and reinject into facial areas where additional volume may be needed. We also combine fat grafting  to improve skin quality, tone, and texture. This is an especially effective technique for the delicate skin under the eyelid area, to improve acne scars and other surface irregularities. Patients appreciate the fact that this is a natural injectable treatment fashioned from their own tissues, and can be repeated at any interval as requested.
A highly skilled facial plastic surgeon can perform a facelift without the telltale scars of bygone eras by combining several modern techniques and providing pristine postoperative monitoring and care during the healing process.
Dr. Sam Rizk is a board-certified facial plastic surgeon in New York City. Reach him at drsamrizk.com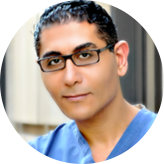 By Dr. Sam S. Rizk, M.D., FACS.
Dr. Rizk is a double board-certified facial plastic surgeon who specializes in rhinoplasty surgery and a recognized expert on the latest advances in facial plastic surgery techniques. He performs a range of facial plastic surgeries at his New York practice.