The Rise of Facial Plastic Surgery among Senior Citizens
Posted by Dr. Sam Rizk February, 02/21/2017 - 10:23 PM
Is an elder in your life looking inexplicably younger? If so, you may be on to something. According to recent statistics from the American Society for Aesthetic Plastic Surgery (ASAPS), some 143,000 Americans ages 65 and older had plastic surgery in the last year. Most patients from this group were 65 to 75 years old and around three-fourths were new to facial plastic surgery. The most popular procedures among this age group were facelift and eyelid surgery.
So what accounts for the increased interest in facial plastic surgery among seniors? And is it safe? Read on to learn more.
Why Older Men and Women Are Seeking Facial Plastic Surgery
Older men and women are seeking facial plastic surgery for a variety of reasons. For one, lifespans have increased among both men and women, and this means that people have been continuing to work and date later into life. Cultural changes also play a role, namely the growing acceptance of plastic surgery.
Also, the cost is lower for many patients, thanks to the advent, proliferation and increased availability of minimally invasive treatments like Botox injections and facial fillers (which are also less of a commitment than traditional plastic surgery).
Since women are under more pressure than men are to remain beautiful as they age, it's no surprise that most older facial plastic surgery patients are women. However, on the whole, the changes they seek these days are subtler than the changes older people used to ask for. This is why we see fewer grandmas with that permanent "wind tunnel" look produced by overly dramatic facelifts.
Another factor is that members of the Baby Boomer generation — famous for their youthful attitude and lifestyle — are now starting to reach their Golden Years, and they want to look as young as they feel. In other words, seniors' increased interest in facial plastic surgery is at least partly a generational thing.
In most cases, it's a combination of these factors. Older Americans feel younger than people of the same age did in past generations, and therefore they don't want to be left out of youthful activities or social situations. And in today's day and age, they no longer feel they have to.
Are there health complications seniors need to worry about?
There are certain risk factors and potential complications that seniors and their surgeons need to take into account. But actually, recent studies have shown that seniors are only slightly more at risk. One study focusing on cosmetic surgery found that seniors had a higher body mass index and were at higher risk for diabetes than their younger counterparts, but were only slightly more apt to experience complications (1.94% as compared to 1.84% among younger patients).
Reputable facial plastic surgeons believe that safety comes first, so they are meticulous with regard to screening patients for potential risk factors. In the initial consultation, they ask potential patients if they are taking any medications, to make sure they are not taking anything that would preclude them from undergoing facial plastic surgery (e.g., blood thinners, which are more commonly prescribed to seniors). Some surgeons may also ask certain seniors to undergo a stress test or other tests to be extra sure that they are good candidates.
While most seniors turn out to be good candidates for surgery, those that aren't are often candidates for less-invasive treatments. On the flip side, older patients that have had too many filler injections over the years may have stretched out skin that can only be addressed with a facelift. If this is the case — and the person is a good candidate for surgery — the surgeon may recommend dissolving the filler material, followed by a facelift.
Dr. Rizk's Observations
Dr. Rizk feels that facial plastic surgery is generally safe and effective — but only when performed by a board-certified facial plastic surgeon with significant experience and skill. He encourages men and women of all ages to explore the options available to help them look their best. Advances in technology and technique have made it possible to achieve very natural results, so long as you are a good candidate for facial plastic surgery.
To schedule a consultation with Dr. Rizk and learn if you are a good candidate for facial plastic surgery, call his office today.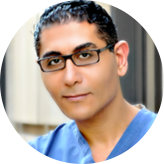 By Dr. Sam S. Rizk, M.D., FACS.
Dr. Rizk is a double board-certified facial plastic surgeon who specializes in rhinoplasty surgery and a recognized expert on the latest advances in facial plastic surgery techniques. He performs a range of facial plastic surgeries at his New York practice.