What is Facial Mapping? Discover How 3D Technology is Enhancing Cosmetic Procedures
Posted by Dr. Sam Rizk November, 11/28/2019 - 04:44 PM
Cosmetic procedures such as fillers, facelifts, and other treatments allow patients to address imperfections they are not happy with. However, plastic surgery is a combination of art and science, so many patients want to see how they can potentially look before opting for a procedure. While this was difficult before, new facial mapping technology gives cosmetic experts the ability to show you the potential results you can achieve.
Dr. Rizk, a double-board certified facial plastic surgeon, and renown cosmetic expert, understands the advantages that facial mapping can bring. Through this technology, cosmetic experts can help their patients visualize results and improve the effectiveness of the procedures being conducted. Below, Dr. Rizk explains the importance of customizing treatments and how NYC facial mapping is enhancing the practice of aesthetic medicine.
The Importance of Considering Each Patient's Unique Features
All patients have unique facial features that need to be taken into consideration for the success of any procedure. Cookie-cutter implants, standard injectable doses, and other conventional approaches do not produce the best results. An experienced cosmetic expert, on the other hand, takes his or her patients' facial characteristics into account to create a customized approach.
What is NYC Facial Mapping?
Facial mapping is a type of technology that fuses 3D rendering and augmented reality. It can help patients visualize the potential results by creating a virtual image of the post-recovery results. In addition, cosmetic experts can use the renders to project the virtual model onto the patient's face during the procedure in order to provide guidance and improve accuracy.
Practical Applications for Facial Mapping in Cosmetic Procedures
Facial mapping in NYC can be applied to a variety of cosmetic treatments in order to enhance their results. From injectable fillers to procedures like rhinoplasty and facelifts, this technology can improve the accuracy of results and allow patients to make better decisions.
Some of the practical applications for facial mapping include, but are not limited to:
Visualizing the Outcome
Many patients that are interested in cosmetic procedures are afraid to take the leap because they want to see the potential results beforehand. This was impossible a few decades ago, but thanks to facial mapping in NYC, patients can look at the virtual model and make a more informed decision.
Predicting Results
Predicting results is crucial for both patients and facial plastic surgeons. New York facial mapping gives cosmetic specialists like Dr. Rizk the ability to predict results and decide what the best approach is based on each patient's unique traits.
Improving Procedure Accuracy
In simple terms, facial mapping can also work as a blueprint that is projected onto the face in order to guide the plastic surgeon. While this may not be necessary depending on the surgeon's level of expertise, it can be extremely helpful nonetheless.
Learn More About Facial Mapping and Other Innovations
Facial mapping in NYC is enhancing cosmetic procedures and raising the standards for both patients and plastic surgery specialists. To learn more about facial mapping and other innovative advancements, stay tuned to Dr. Rizk's blog.
If you are interested in working with Dr. Rizk, contact his practice and book a consultation today!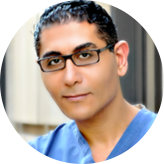 By Dr. Sam S. Rizk, M.D., FACS.
Dr. Rizk is a double board-certified facial plastic surgeon who specializes in rhinoplasty surgery and a recognized expert on the latest advances in facial plastic surgery techniques. He performs a range of facial plastic surgeries at his New York practice.