What is Filler Fatigue?
Posted by Dr. Sam Rizk September, 09/21/2021 - 05:43 PM
Dermal fillers are one of the most popular non-invasive treatments in the United States, however, they are not always injected with the best results. Filler fatigue is a telltale sign of too many filler injections and can present itself as duck lips, exaggerated facial features, and an altogether overdone appearance. Other patients report that their injections wear off faster and ask for larger amounts to be injected.
As a double-board certified facial plastic surgeon, Dr. Rizk sees many patients who have been victims of overdone fillers and often advises them on when to dissolve fillers and in which cases a surgical procedure will bring about a more natural appearance.
Dr. Rizk's signature procedures take advantage of the latest technological advancements in facelifts and neck lifts. His procedures lead to rapid recovery and natural-looking results.
What are my options for plastic surgery instead of facial fillers?
Many patients benefit from surgery as a solution to their aging facial features. For instance, a patient with deep jowls, nasolabial folds, hollowed cheeks, or volume loss would enjoy natural results from long-lasting fat injections or cheek and chin surgery as opposed to fillers that fade with time.
Similarly, individuals looking for plumper, more natural lips find great results from surgical lip augmentation. Trying to fix certain issues with fillers can be costly in the long run and produce an unnatural appearance. NYC's award-winning Dr. Rizk may offer to combine procedures to save recovery time.
What plastic surgery treatments can I combine for great results?
If you have several concerns such as tired, baggy eyes, and an aging face, Dr. Rizk may suggest a combination of procedures such as neck and face lifts, eyelid surgery, and in some cases rhinoplasty and other, smaller procedures. to achieve the best results.
If you'd like to learn more about your plastic surgery options, or how to correct overdone fillers, please contact our office today.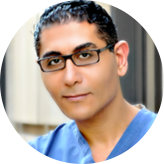 By Dr. Sam S. Rizk, M.D., FACS.
Dr. Rizk is a double board-certified facial plastic surgeon who specializes in rhinoplasty surgery and a recognized expert on the latest advances in facial plastic surgery techniques. He performs a range of facial plastic surgeries at his New York practice.