Lip Service
Posted by Dr. Sam Rizk November, 11/01/2017 - 03:44 PM
The Scoop on the Newest FDA-Approved Lip Enhancement Treatments
The US Food and Drug Administration recently approved the use of a small blunt tip cannula with Restylane Silk for lip augmentation. This makes Restylane Silk the first hyaluronic acid filler to be approved for lip injection with a companion cannula. This may not seem like a huge deal, but it can make the lip injection process less painful and time-consuming for anyone interested in a plumper pout.
Dr. Rizk's Observations:
Full lips are in demand and have been for a long time. This trend has been fueled often by celebrities and reality TV stars who show off their injected lips all over Instagram.
The approval of this cannula with Restylane Silk may encourage even more people to consider lip enhancement. It is good to have another option to offer patients who are interested in fuller lips, but it may not be right for everyone.
Before blunt-tipped cannulas, we did all of our injections with sharp-tipped needles. In truth, both work very well and get the job done. Cannulas are thin flexible tubes with small openings on the side. They may hold certain advantages over needles for some individuals.
For starters, we don't need to inject any anesthesia when we use cannulas, although the FDA approved hyaluronic acid gel fillers I use already contain lidocaine to soften the sting of needles. We can also fill more areas with fewer entry points (i.e. jabs). With cannulas, we need one or two entries into the skin, but a sharp needle requires multiple penetrations. This means a cannula-based procedure takes a lot less time without sacrificing the cosmetic results.
The blunt tip serves to move blood vessels to the side instead of puncturing them. As a result, we see less bleeding, swelling and bruising at the injection site. Needles, however, allow us to be more exacting in our approach and this can be useful when filling specific or highly defined contours. Both needles and cannulas have a role to play and at the end of the day, it is our job as facial plastic surgeons to provide the best results possible using all of the tools in our toolbox.
Some of my patients do well with lip injections, but others may benefit more from lip augmentation with fat grafting, or surgical lip lifts. During lip augmentation, I remove some fat from somewhere else on the body, such as the tummy of hips, and graft it into one or both lips. I also offer my signature Lip Lift procedure that is ideal for patients who has lost some of the definition in the upper lip and see a greater distance from the tip of the nose to the top of the lip that can create an aging appearance. These procedures, while more invasive, do produce permanent results which many patients prefer.
If you are considering lip enhancement, discuss all of your options with a facial plastic surgeon. Together with your surgeon, you can weigh the pros and cons of each procedure and make an informed choice.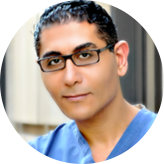 By Dr. Sam S. Rizk, M.D., FACS.
Dr. Rizk is a double board-certified facial plastic surgeon who specializes in rhinoplasty surgery and a recognized expert on the latest advances in facial plastic surgery techniques. He performs a range of facial plastic surgeries at his New York practice.