Manning Up: Growing numbers of men are opting for facial plastic surgery
Posted by Dr. Sam Rizk June, 06/22/2017 - 07:54 PM
The increase in men undergoing facial plastic surgery has been referred to as the menassaiance by some doctors in the know. While women are still much more likely to consider nips and tucks, men are slowly and surely catching up.
The reasons are manifold (pun intended). For some, facial rejuvenation –whether Botox, Dysport or Xeomin to delete frown lines, Kybella to reduce under-chin fat or an eyelid lift to look less tired and wane –is about remaining competitive in a workforce increasingly dominated by much-younger millennials. Others may want to look as young as they feel and act, and for some, the cosmetic tweaks may be at their partner's urging or in an effort to attract a new partner. There is also less stigma associated with subtle intervention these days. As more and more people chat openly about what they are doing and why, all comers – men included – are growing intrigued by the (often non-surgical) possibilities.
Social media plays a role here too as it offers an up-close-and-personal look at how others are aging, leaving many to wonder why their college roommate looks so much younger than they do on Facebook, and how it is possible that no high school cronies have double chins? Unflattering photos are no longer ripped up; instead they remain on line for eternity (or close to it) so everyone can make these not-so-flattering comparisons.
Advice from Dr. Rizk
Male plastic surgery may have gotten a bad rap from some high-profile Hollywood celebrities who have had too much done too soon. Men are not just larger women. We can't just inject them or perform surgery in the same manner as women or they will end up looking overly feminized. I want my male patients to look like the best versions of themselves so they appear refreshed, but not operated. Many treatments are gateway procedures for men today. I may see a man come in for BOTOX to get rid of the furrows between his brows that makes him look angry, or a neck lift are to get rid of a sagging chin without knowing very much about facial plastic surgery. I spend much time during the consultation educating men on what is possible with well-performed facial plastic surgery today. For example, many men may not be aware that they may be candidates for non-surgical fat reduction under the chin or an isolated necklift or 'tie tuck' without having to go through a full facelift. I find men are extremely engaged and responsive once we start discussing the possibilities.
Neck lifts, nose jobs, and removing eyelid bags are the most popular procedures I perform in men. In fact, I pioneered a Rapid Recovery Neck Lift procedure to allow men (and women) to return to work sooner after a surgical neck lift. This procedure uses tissue glues instead of drains to allow faster healing with less bruising and swelling pain, scarring and discomfort. In addition, I incorporate a special regimen of vitamins and herbal supplements to expedite recovery to get my patients back in the game even sooner.
Choosing a board-certified facial plastic surgeon who treats men as well as women is the best way to make sure that you get the results you desire. Ask to see before- and-after photos of men in your age group who have had the same procedures that you are interested in before booking yours.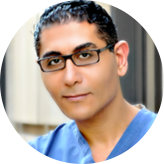 By Dr. Sam S. Rizk, M.D., FACS.
Dr. Rizk is a double board-certified facial plastic surgeon who specializes in rhinoplasty surgery and a recognized expert on the latest advances in facial plastic surgery techniques. He performs a range of facial plastic surgeries at his New York practice.