Dr. Rizk Receives the Maintenance of Certification in Facial Plastic and Reconstructive Surgery Certificate
Posted by Dr. Sam Rizk October, 10/13/2014 - 09:46 PM
Dr. Rizk is proud to announce that he has received certification for the Maintenance of Certification in Facial Plastic and Reconstructive Surgery (MOC in FPRS) program administered by the American Board of Facial Plastic and Reconstructive Surgery (ABFPRS), validating that all his credentials in surgery are up to date. The board is an official, professional evaluation that places all surgeons on an equal platform. In essence, it is verification that your surgeon is up to par on the latest advances and that he or she has demonstrated continual expertise in surgery.
For obvious reasons, it can be hard to individually assess the work of every plastic surgeon practicing in the United States. It is for this reason that Dr. Rizk always stresses to his patients the importance of up-to-date board certification and reminds them to inquire about board certification upon any consultation they schedule. In order to qualify for the MOC in FPRS, each surgeon is required to pass a series of oral and written tests and complete the various qualifications needed for certification. Membership must be renewed each decade, ensuring that the surgeon does not fall behind industry standards. Certification by the American Board of Facial Plastic and Reconstructive Surgery and having the MOC in FPRS thus confirms that your surgeon is among the elite of the field, a classification Dr. Rizk is honored to represent.
Moreover, not only does board certification mean that your surgeon has successfully passed all the intense examinations, but it also verifies that your surgeon is continuing to advance their education in surgery. The board requires that each of its members undergo 50 additional hours of in-class instruction every two years, the majority of which is field-specific. In this way, patients of board-certified doctors will know that their surgeon is at the forefront of the latest advances in surgical technique and strategy.
Trusting a surgeon who is not officially board certified or whose certifications are expired can be risky. If you considering plastic surgery, board certification should be among the very first aspects you look for. Your face is the most visible representation of yourself, and trusting a surgeon who is not qualified by the American Board of Facial Plastic and Reconstructive Surgery can come with unwarranted results.
Having completed all requirements for the MOC in FPRS, Dr. Rizk has guaranteed his commitment to surgery and has asserted his position as a world-class surgeon. Receiving his certificate affirms that the NYC facility in which he operates is fully accredited and that his license as a surgeon is completely up-to-date. Schedule your consultation with Dr. Rizk today and you will be one step closer to a new you.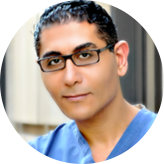 By Dr. Sam S. Rizk, M.D., FACS.
Dr. Rizk is a double board-certified facial plastic surgeon who specializes in rhinoplasty surgery and a recognized expert on the latest advances in facial plastic surgery techniques. He performs a range of facial plastic surgeries at his New York practice.