Don't Let Tech Neck Get You Down
Posted by Dr. Sam Rizk August, 08/09/2017 - 06:05 PM
All of the time we spend staring down at our devices does more than exponentially increase our monthly phone bill – it may also contribute to the development of a double chin.
This is becoming so commonplace that it has it's own nickname – tech neck!
Don't believe us?
Look around. How many people do you see with their heads bent downward and staring at their device du jour?
All of this adds up to complaints of sagging skin, double chins, and marionette lines from your lips to your chin and loose jowls (aka jowling).
It's not hard to understand why either. Looking downward helps gravity do its job even more effectively – namely pulling our skin toward the ground.
While editing your images can help reduce the appearance of your double chin on Facebook or Insta, you can't swipe right and photoshop your actual neck.
Dr. Rizk's observations:
Double chins and sagging necks are two of the biggest complaints that we hear from our patients, and this has been true for far longer than our collective smart phone obsession began. That said, all this time spent looking down at our devices can exacerbate skin laxity, crepiness, double chins and wrinkles. I suggest trying to keep your head at a neutral angle as much as you possibly can. Sometimes, however, prevention isn't enough.
In my practice, the gold standard way to address tech neck is a neck lift and/or liposuction. Liposuction can be used to remove fat deposits from this area, but it doesn't tighten sagging skin. In some cases, in fact, it may leave you with more sagging skin that does not bounce back after the fat is reduced. A neck lift, however, can address both these issues very effectively. When I perform a neck lift, I target the deeper tissue by going under the muscle and sliding it backwards into its original youthful position. Once the deeper tissue is lifted, I can redrape and trim excess skin. There is less bruising and swelling with this method, and scars heal better because there is no tension on superficial layers and skin. This technique also works very well for women as well as for men due to the limited incisions used.
Other less invasive methods used alone or together can address the double chin and saggy neck that are the hallmarks of tech neck, but results are variable. For example, a series of Kybella injections can help melt unwanted fat in the chin region. Kybella's active ingredient is identical to something our body makes to absorb fat, deoxycholic acid. There is considerable downtime after these treatments and you up to six sessions may be needed. Coolsculpting Coolmini applicator harnesses the power of cryotherapy to freeze fat cells in the chin area so they are destroyed and eliminated by the body. These may be combined with an energy-based treatment such as ultherapy, which may help tighten skin in some cases. Each of these treatment are less invasive, but they cannot achieve the long lasting rejuvenating effects of a surgical necklift.
We have more ways to address this trouble spot than ever before, and there is not a one-size–fits-all solution. Schedule a consultation with a board certified facial plastic surgeon who is familiar with the best options. He or she will help you choose the best one for you based on your facial anatomy, budget and tolerance for any downtime.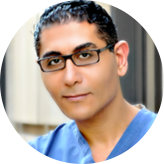 By Dr. Sam S. Rizk, M.D., FACS.
Dr. Rizk is a double board-certified facial plastic surgeon who specializes in rhinoplasty surgery and a recognized expert on the latest advances in facial plastic surgery techniques. He performs a range of facial plastic surgeries at his New York practice.