How To Prepare for Neck Lift Surgery
Posted by Dr. Sam Rizk November, 11/25/2020 - 05:44 AM
For most patients, a surgery is an investment – not just in themselves, but also from a money and time perspective – and as such, Dr. Rizk points out that preparation for surgery is just as important as the recovery, to ensure you have the best chance of achieving excellent results.
Dr. Sam Rizk is a double board-certified facial plastic surgeon and offers a number of recommendations on how best to prepare for neck lift surgery:
Ask Questions
Your consultation should be a time of discussion, and for you to ask questions about your surgery. In order to be fully aware of how the day will run and how you need to prepare, you should ask questions such as:
Is there anything I should stop or start doing before surgery?
When will I need to arrive on the day?
How long will the surgery take?
Will I need to stay overnight or will I be discharged on the same day?
What can I do to help my recovery?
When can I expect to be fully recovered?
You may wish to take notes and request any relevant brochures.
Have a Plan in Place
With the information gained from your surgeon, make a plan to get all of your 'life admin' organized prior to surgery. Think about how much time you may need off work, organizing a babysitter if needed, or rescheduling any events or commitments that may coincide with your surgery or recovery. There's nothing more stressful than trying to re-organize at the last minute, or worse – right after surgery while you should be resting.
Know How to Recover
Your surgeon will have recommendations for you of the best ways to aid in your recovery after surgery. It's important to heed this advice in order to give yourself the best chances to recover well and quickly. You will need to rest and take time off for approximately two weeks, and to refrain from exercising for four to six weeks. You may have numbness, swelling, and bruising, and some slight discomfort following your surgery. Be gentle with your neck during this time, especially while washing or shaving.
Be Open to Change
At the end of the day, despite all our efforts, things can change unexpectedly. Be ready for any changes on the day of the surgery – for example, the time may change, or you may end up needing to spend the night after expecting to be discharged. Alternatively, you may not heal as well or as quickly as you had hoped. Everyone heals differently, and external factors such as smoking or pre-existing conditions can slow the healing process.
A neck lift can make a dramatic change to the skin and shape of the neck, and bring confidence back where it has been lost. If you are considering a neck lift or would like to explore your options, contact us at Manhattan Facial Plastic Surgery today.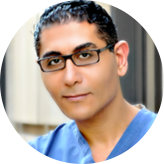 By Dr. Sam S. Rizk, M.D., FACS.
Dr. Rizk is a double board-certified facial plastic surgeon who specializes in rhinoplasty surgery and a recognized expert on the latest advances in facial plastic surgery techniques. He performs a range of facial plastic surgeries at his New York practice.