Nora Ephron Felt Bad About Her Neck – But You've Got Options
Posted by Dr. Sam Rizk February, 02/07/2020 - 02:47 PM
It doesn't matter if you're a successful celebrity screenwriter or not, we all have traits that we would improve instantly if we could. Nora Ephron, a famous screenplay writer, responsible for movies like You've Got Mail and Julie and Julia, was open about the aesthetic concerns many women face, which she included in her best seller I Feel Bad About My Neck: And Other Thoughts on Being a Woman.
In her humorous biography, Nora Ephron discusses many topics, including the fact that she didn't like the appearance of her neck. Ephron passed away in 2012 at age 71, but her memoirs are still popular because of the similar struggle shared by millions of women across the country. Fortunately, aesthetic medicine has come a long way in the last twenty years and there are now more treatment possibilities so that no one has to "feel bad about their neck". In this article, Dr. Rizk goes over the different options that women and men in NYC have if they don't like their necks.
Who is Nora Ephron?
Nora Ephron may be better known as an Oscar-nominated screenwriter and movie director, but she was also an acclaimed journalist, playwright, and essayist. Born in New York City and raised in California, Ephron had an illustrious career as a filmmaker before publishing I Feel Bad About My Neck in 2006. In the humorous take on the problems women face as they age, Ephron discusses the fact that she doesn't like the specific area of her neck. Today, with an expert cosmetic surgeon like Dr. Rizk, you can address the sagging skin on your neck and other areas that can make you look older than you feel.
What Options Do You Have if You Don't Like Your Neck?
There are different cosmetic procedures you can choose from to improve the appearance of your neck. Dr. Rizk, a double board-certified facial plastic surgeon in NYC, specializes in treating the face and neck in order to help his patients achieve their aesthetic goals. According to Dr. Rizk, the best treatments that can help improve the appearance of the neck are:
Facelifts
Despite the fact that facelifts only focus on the area above the neck, improving this area can draw attention from your neck and indirectly improve its appearance. This procedure will also improve the appearance of jowls, which many patients want to refine as part of their neck rejuvenation. At the same time, you can combine facelifts with other procedures that help tighten the skin on your neck.
Neck Lifts
The neck lift procedure was designed to address the appearance of aging and sagging skin on the neck. Dr. Rizk has created a signature neck lift that allows him to work on the muscles of the neck and jowls, resulting in a youthful, natural-looking appearance.
Laser Resurfacing
Laser resurfacing is another procedure that can help rejuvenate the neck. This treatment relies on innovative lasers that remove the upper layers of the skin one by one. The controlled removal of layers promotes the production of collagen, the skin's building blocks, which results in smoother, younger-looking skin.
Find a Cosmetic Neck Expert in NYC
The most important thing when looking for ways to improve the appearance of your neck is to work with a reliable cosmetic surgeon. Dr. Rizk is a double certified cosmetic facial plastic surgeon in NYC that specializes in neck rejuvenation techniques like the ones listed above. To learn more about his work, contact his office and book a consultation today.
Related Blog Posts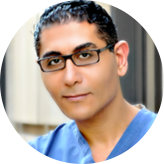 By Dr. Sam S. Rizk, M.D., FACS.
Dr. Rizk is a double board-certified facial plastic surgeon who specializes in rhinoplasty surgery and a recognized expert on the latest advances in facial plastic surgery techniques. He performs a range of facial plastic surgeries at his New York practice.