What Are Your Approaches to Necklifts?
Posted by Dr. Sam Rizk February, 02/21/2014 - 10:00 AM
A necklift is an effective way to treat a double chin, turkey waddle or heavy neck. The procedure often involves the removal of fat, and it addresses loose skin and muscle in areas of the neck that have lost elasticity and may be showing neck bands. The result is a rejuvenated appearance in the neck area.
Dr. Rizk offers a variety of necklift treatments to patients experiencing visible signs of aging in the neck. The procedures performed and the complexity of these procedures depend on the individual patient and his or her level of visible aging in the neck area. The techniques used will differ based on whether there is excess skin (and if so, how much), jowling and/or deep nasolabial folds. Necklift is often combined with a facelift and other procedures for optimal results.
The various necklift approaches can essentially be divided into five levels, based on the number and complexity of techniques necessary.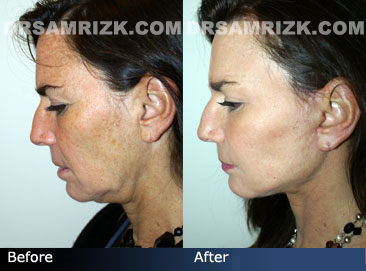 Level 1: Liposuction & Chin Implant
Younger patients who do not have excess skin but do have excess fat in the neck can usually avoid undergoing a full-fledged neck lift. In these cases, liposuction will often suffice. (Liposuction alone typically is not the best course of action for older patients with a lot of excess skin in the neck area.)
Liposuction is the first course of action for any patient with excess fat in the neck area. The procedure is very effective for addressing a double chin or fatty neck. To perform neck liposuction Dr. Rizk makes a small incision beneath the chin and inserts a small cannula. He moves the cannula back and forth, breaking up the fat before removing it through the cannula. Dr. Rizk uses a high-definition, 3D endoscope (tube with a camera) for increased precision and accuracy.
In some cases, younger patients may also benefit from a chin implant. During the initial consultation, Dr. Rizk will examine the chin's bone structure to determine if a chin implant would be beneficial. A chin implant is helpful for patients with insufficient chin protrusion.
Level 2: Platysmaplasty
If a patient shows slightly more signs of aging, a procedure called platysmaplasty may be necessary. This procedure is very effective for the treatment of a turkey waddle, or loose sack that is visible from the front of the neck.
During platysmaplasty, a small incision is made under the chin, behind the ears or in both locations. The neck muscle bands are altered, fat is removed from under the muscle, and the muscle is tied centrally. The neck muscles will be realigned if necessary. Dr. Rizk prefers to use Endotine ribbon bands to hold the muscle bands together. He also likes to use special tissue glues for faster recovery and less swelling, bruising and pain.
Platysmaplasty is less invasive with a shorter recovery if a 3D high-definition endoscope is used. The procedure takes two to three hours if no additional procedures are being performed.
Level 3: Lateral Necklift
Patients with noticeable excess skin may require a lateral necklift. To determine if this is the case, Dr. Rizk does a test during the consultation in which he asks the patient to tighten his or her neck muscles. He then grabs the skin and tries to move it. If it moves around, this is considered excess skin, which means that platysmaplasty will not be sufficient to correct the aging appearance of the neck. A lateral neck lift will likely be required, possibly in combination with platysmaplasty or a procedure called submentoplasty.
During a lateral neck lift, incisions are made under the ear lobe, extending back under and behind the ear and ending at the scalp at the back of the neck. These incisions are similar to the ones made during a facelift. Once the incisions have been made, the skin of the neck is lifted and the soft tissues and muscles are moved into place and tightened. Excess skin is removed, fat deposits are removed either manually or through liposuction, and the incisions are closed. A small drain may be inserted in the neck area.
Level 4: Partial Facelift of the Lower Face
If substantial changes have occurred in a patient's lower face, such as jowling or deep folds, a necklift will not be sufficient. In addition to the necklift, a partial facelift of the lower face may be required. This usually occurs in patients who are in their 50s or 60s.
A partial facelift of the lower face can correct jowls and loose neck skin and improve the appearance of the jawline. Dr. Rizk offers several different types of partial facelifts for the lower face, depending on the needs of the patient.
Level 5: Full Facelift
For patients demonstrating more advanced stages of aging in the neck and face, such as highly loose neck skin, jowls, and deep nasolabial folds, Dr. Rizk will likely recommend supplementing the neck lift procedure with a full facelift. This procedure is effective when the effects of gravity, genetics and sun damage begin to take hold. At this point, sagging facial skin cannot be addressed with laser treatments and facial fillers. A full facelift is effective for counteracting the effect of aging and gravity.
During a full facelift, facial fat and muscles are lifted and secured to the facial structures. This procedure is far more involved than most neck lift procedures but its results can last a decade or longer.
Dr. Rizk's facelift technique is distinguished from other surgeons' techniques by the fact that it addresses deeper tissue by going beneath the muscle. The result is less swelling and bruising, and better healing.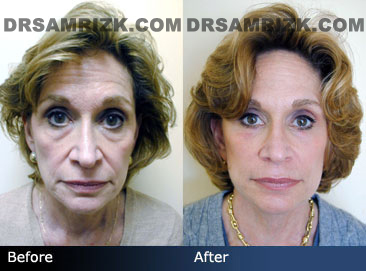 To learn more about neck lift techniques and other procedures that complement them, contact Dr. Rizk's office today.
Related Blog Posts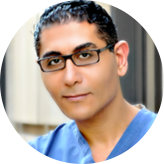 By Dr. Sam S. Rizk, M.D., FACS.
Dr. Rizk is a double board-certified facial plastic surgeon who specializes in rhinoplasty surgery and a recognized expert on the latest advances in facial plastic surgery techniques. He performs a range of facial plastic surgeries at his New York practice.