3 Stories About How a Revision Nose Job Changed Our Patients' Lives
Posted by Dr. Sam Rizk February, 02/28/2020 - 05:51 PM
The nose is a prominent feature on the face and, therefore, important for a person's proper sense of identity. In America, over 200.000 rhinoplasty surgeries are performed per year to enhance the aesthetics and functionality of the nose. Unfortunately, rhinoplasty does not always give patients the desired results. It takes a highly skilled and experienced plastic surgeon to handle the complexities of a nose job.
Dr. Sam Rizk is a double board-certified facial plastic surgeon and NYC rhinoplasty expert. He is skilled to handle the aesthetic and medical sides of rhinoplasty. Because of his ample experience and understanding of the complexity of rhinoplasty surgery, revision rhinoplasty is one of his subspecialties. Below he shares 3 stories of how a revised nose job changed our patients' lives.
Young Female Patient Ecstatic with Her Revision Rhinoplasty
Clara was in her early twenties when she decided to undergo rhinoplasty. She was never happy about her nose and felt it just did not fit well on her face. After the surgery, she was not pleased with the results. Her nose developed a downward projection and a curved nasal tip. This is called a pollybeak deformity and it was caused by the rhinoplasty. Her nasal tip was also drooping and the bulbous tip was asymmetric.
As devastating as this was for her, she immediately went looking for well-respected surgeons with solid experience in revision rhinoplasty. Dr. Rizk carefully performed revision rhinoplasty with a customized surgical treatment of trimming excessive tissue to straighten the curve. He also added cartilage grafts to lift the tip of the nose. Just 6 days after the surgery Clara could see the improved results and was ecstatic with her revised nose.
54 Year Old Interior Designer Feels Young Again
As an interior designer, Melissa had always found it important to look as good as possible. However, during the last couple of years, she noticed that her skin began to sag and her eyes were looking tired. Although she had rhinoplasty in the past, she was not happy with the results and noticed that the tip of her nose had begun to droop. She looked for a specialist facial plastic surgeon who could address all these different aspects of her face.
During Melissa's pre-op consults with Dr. Rizk, at his state-of-the-art NYC office, he examined her face carefully and made a customized surgical plan. With a great deal of artistry, precision, skill, and ample experience, Dr. Sam Rizk performed a combination of several carefully planned cosmetic procedures. The revision rhinoplasty was extended with a tip lift procedure to rejuvenate her appearance, her lower eyelids were lifted through blepharoplasty and at a later stage, her skin was tightened with laser resurfacing. In addition, Dr. Rizk performed a facelift and neck lift. Melissa is thrilled about the overall results, especially her revised nose. She does not feel 54 years old anymore and her reflection in the mirror matches how young she feels inside.
Revision Rhinoplasty Restores the Confidence of 26 Year Old Sara
After a previous nose job went bad, Sara was very scared to choose another procedure. In the months after the first procedure, the right side of her nose started to collapse and the tip of her nose started to droop. She describes this period as horrific and as her confidence was diminishing, it started to affect her work as a sales agent. She had an honest conversation with her aunt who recommended she consult Dr. Rizk. He explained to her what she could expect and performed a carefully planned revision rhinoplasty. To correct the collapse, cartilage was added to restore the symmetry of her nose and to lift the tip. While the recovery will take about 12 months, after just 2 months Sara feels much more confident with her revised nose and she recognizes herself in the mirror again.
Revision Rhinoplasty with Dr. Rizk in New York
Revision rhinoplasty genuinely changes our patients' lives for the better. Dr. Rizk is a rhinoplasty expert in New York and has dedicated his time to revision rhinoplasty in order to help patients achieve their aesthetic goals. By combining his precision, skills, and understanding of the complexity of the nose he delivers the results that patients were looking for in their first rhinoplasty. Dr. Rizk is a double-board certified NY plastic surgeon, has additional certification in otolaryngology and an excellent track record of satisfied rhinoplasty patients. He understands how devastating it can be for patients when a nose job goes wrong. Schedule a consultation in his New York City office to receive honest information about revision rhinoplasty and what you may expect in your situation.
Related Blog Posts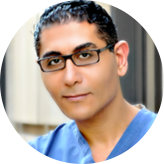 By Dr. Sam S. Rizk, M.D., FACS.
Dr. Rizk is a double board-certified facial plastic surgeon who specializes in rhinoplasty surgery and a recognized expert on the latest advances in facial plastic surgery techniques. He performs a range of facial plastic surgeries at his New York practice.