5 Issues You Should Bring Up With Your Facial Plastic Surgeon Before a Nose Job
Posted by Dr. Sam Rizk June, 06/30/2020 - 02:27 PM
Opting for rhinoplasty surgery to help achieve your aesthetic goals is a huge decision. It's normal to have different questions about your nose job. Many patients turn to the internet for answers. While the digital world has a lot of useful information, there are certain things that only an experienced rhinoplasty surgeon that has performed a thorough examination can answer.
The Decision of Getting a Nose Job
Deciding to get a nose job is a big step, so you need to find a board-certified facial plastic surgeon that specializes in rhinoplasty surgery. You should also ask to see the surgeon's portfolio to verify that he or she has successfully performed rhinoplasty surgery in similar cases.
When Should You Discuss Concerns with Your Plastic Surgeon?
The simple answer to this question is: always. Patients who choose to undergo rhinoplasty surgery need to understand the physical and psychological implications that come with the procedure. You should always ask your facial plastic surgeon if you are concerned with aspects of the surgery or potential results.
5 Issues You Should Bring Up With Your Facial Plastic Surgeon Before a Nose Job
You probably have many questions for your rhinoplasty surgeon, but there are 5 things you should always discuss during your consultation. This will help you get a good idea of the results you can achieve and make the most out of your consultation. Below, Dr. Sam Rizk goes over the 5 issues you should always discuss with your facial plastic surgeon before your rhinoplasty procedure:
Degree of Improvement and Expectations
One of the first things you'll want to talk to your surgeon about is the degree of potential improvement you can expect. Whether you want to reduce a bump or straighten a crooked nose, it's important to understand the degree of improvement in order to create the right expectations before the operation.
Functional Aspects
The benefits of a nose job extend beyond aesthetics – when patients also have respiratory problems, rhinoplasty surgery should be performed at the same time as a septoplasty. All breathing and functional issues should be addressed by the surgeon as part of your procedure.
Any Current Health Issues
Make sure to mention any health issues you're experiencing or medication you're currently taking.
Type of Procedure
There are different types of rhinoplasty – including open vs closed procedure – so talk to your surgeon about the technique that will be used to best understand the procedure's limitations.
Recovery and Results
Lastly, always talk to your rhinoplasty surgeon about the aftercare plan to get a good idea of the recovery process and the timeline for results. Does the surgeon have techniques to reduce swelling and quicken recovery?
Learn More About Working with Dr. Rizk to Improve Your Nose
Dr. Rizk is a double board-certified facial plastic surgeon and nose job specialist in NYC, so he understands the importance of answering patient concerns before the procedure. To learn more, contact his office and book a consultation today.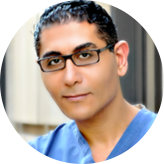 By Dr. Sam S. Rizk, M.D., FACS.
Dr. Rizk is a double board-certified facial plastic surgeon who specializes in rhinoplasty surgery and a recognized expert on the latest advances in facial plastic surgery techniques. He performs a range of facial plastic surgeries at his New York practice.