Did Kim Kardashian Have a Nose Job?
Posted by Dr. Sam Rizk May, 05/07/2016 - 09:00 AM
In recent months the social media world has exploded with speculation over Kim Kardashian's nose. The rumors began when Kim first reappeared from seclusion after giving birth to her child, Saint West, late last year. As images began to emerge and circulate on social media, the Twitterati erupted with theories and accusations of plastic surgery and every injectable treatment imaginable.
And it's not limited to garden-variety gossip hounds. Many cosmetic surgeons have been happy to chime in with their thoughts; most of them agree with the masses that Kardashian seems to have had rhinoplasty at some point during her period of seclusion from the media. They have commented that Kardashian's nose now looks thinner and less proportionate to other facial features, and have warned that she should not have any more rhinoplasty procedures. According to aesthetic rejuvenation expert Zara Harutyunyan, Kardashian may have even had a non-surgical nose procedure involving the injection of dermal fillers sometime recently.
Should a celebrity getting a nose job influence people getting a nose job?
Definitely not. Reputable facial plastic surgeons immediately raise an eyebrow any time a patient asks for the nose of a celebrity. Patients who make such requests have unrealistic expectations at a minimum and many of them have body dysmorphic disorder, a condition characterized by a delusional view of their own body. A patient's goal should not be to copy someone else's nose but rather to feel confident and achieve a personal look that is tailored to their individual needs, which means a nose that is in harmony with the rest of the face as well as symmetrical.
You should, however, expect to be treated like a celebrity — in other words, with the same courtesy and respect that a celebrity would receive — by your facial plastic surgeon. Your surgeon should be willing and enthusiastic about listening to your goals and explaining your options.
Choosing the right nose surgeon
Look for a board certified facial plastic surgeon that has extensive experience, uses advanced technology, and specializes in nose surgeries. Your surgeon should be able to demonstrate a consistent pattern of good results. Most facial plastic surgeons complete their residency in either otolaryngology-head and neck surgery or plastic surgery and also undergo additional training in facial plastic surgery, to gain an in-depth understanding of the structures of the face and how to manipulate and alter them. In order to receive board certification, candidate facial plastic surgeons must pass a rigorous exam and show that they have an extensive record of clinical experience.
Dr. Sam Rizk is one such surgeon. He is known for achieving rhinoplasty results that look natural and function well. What's more, his unique rapid recovery system is renowned among peers and patients alike. His patients' rapid recovery is made possible by special surgical technologies and techniques, including the use of 3D scopes as well as small incisions that provide greater precision and avoid disturbing sensitive blood vessels. He also uses special tissue glues and sutures that dissolve, the combination of which eliminates the need for nasal packing.
Dr. Rizk also leaves the incisions inside the nose partially open to allow for natural drainage and prevent fluid and blood from collecting beneath the skin. The incisions typically seal on their own within five days. In addition, he sculpts the tissues in areas where there are fewer blood vessels, so that there is less bruising and swelling. His "clean plane" approach leads to more natural looking results because he leaves a layer of muscle above the cartilage, in turn lessening the appearance of edges and softening the shape of the nose. Dr. Rizk's methods allow patients to look presentable as early as five days after surgery.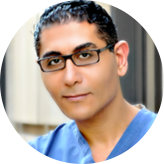 By Dr. Sam S. Rizk, M.D., FACS.
Dr. Rizk is a double board-certified facial plastic surgeon who specializes in rhinoplasty surgery and a recognized expert on the latest advances in facial plastic surgery techniques. He performs a range of facial plastic surgeries at his New York practice.