Dr. Rizk – A Doctor That Will FaceTime You
Posted by Dr. Sam Rizk February, 02/19/2015 - 03:17 PM
I was recently featured on a Huffington Post article about "Health and Beauty Tips for the Busy Lady." This article gave many great tips and suggestions for how a busy woman can still get the health and beauty regimen and results she desires, and mentioned me as a "Doctor That Will FaceTime You." As our lifestyles become increasingly busy, it is important to still carve out time for the things that matter to you, and I am always looking for ways to help my patients most efficiently and effectively achieve their goals.
Technology can benefit us in so many ways, and one great new use of the High-Definition iPhone 6 and iPhone 6 Plus cameras is for virtual consultations. With virtual consultations, my busy or out-of-town patients can still benefit from my expertise and feel confident that we are working towards the same goal with their surgery. The consultation is one of the most crucial steps with any plastic surgery, and I truly work to fully understand my patients' desires. However, I also understand that this step can be time-consuming, and my New York based office is not always a convenient location for my international patients. Virtual consultations allow my patients to bypass any hassle or travel costs while still getting the full benefit of a well-considered, thought out approach.
As a leading expert in plastic surgery and specializing in nosejobs and facelifts, many patients from all over the U.S. and even the world choose to travel to New York to have their procedure performed by me. After an initial photo review, I utilize Skype or FaceTime technologies to better detect any nuances or details that will ultimately affect the final outcome. Before virtual consultations, patients had to come in to the office to see if they would even be a good candidate for a procedure, potentially wasting a lot of time and money. This virtual consultation is as effective as an in-person consultation, and saves my patients a lot of hassle.
If you are considering a rhinoplasty, facelift, or any other plastic surgery procedure with me, but live outside of New York, please contact my office for more information on virtual consultations. This is a great way to get my expert opinion and ensure that the procedure will be a success.
Related Blog Posts
YOUR FACELIFT PRIMER
Top 10 Questions to Ask Before Your Facelift
Facing the Facts About Facelift Longevity
Meet The New Fillers On The Block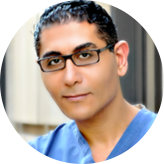 By Dr. Sam S. Rizk, M.D., FACS.
Dr. Rizk is a double board-certified facial plastic surgeon who specializes in rhinoplasty surgery and a recognized expert on the latest advances in facial plastic surgery techniques. He performs a range of facial plastic surgeries at his New York practice.