How a Nose Job Can Contribute to Overall Facial Balance
Posted by Dr. Sam Rizk April, 04/20/2020 - 02:17 PM
Over the last few years, rhinoplasty has become a popular procedure. According to the American Society of Plastic Surgeons, nearly 220,000 rhinoplasties are performed each year. The reasons for getting a nose job vary greatly, from correcting a birth defect to lifting the nose tip. Improving breathing capacity and boosting self-esteem are also named as important motives for nose surgery.
Dr. Sam Rizk is an NYC rhinoplasty expert who performs hundreds of rhinoplasty procedures per year. As a double board-certified facial plastic surgeon, he is trained to enhance the aesthetic and functional aspects of the nose. In this blog post, plastic surgery specialist Dr. Rizk will discuss how a nose job can contribute to overall facial balance.
Facial Symmetry Is a Sign of Beauty
Facial beauty depends on many different factors. Skin complexion, tone, eye color, facial form, and the position of the ears, eyes, mouth, and nose. There are many complex theories to explain and measure the concept of beauty and some of them also depend on cultural influences. In general, it is agreed that facial symmetry is an important part of beauty standards.
Symmetrical faces are typically considered attractive. As well, unconsciously, symmetry is interpreted as a sign of physical health. It is no wonder that many cosmetic procedures are being chosen to enhance the symmetry of the face. Furthermore, it is possible to enhance facial balance with a nose job.
How a Nose Job Can Contribute to Overall Facial Balance
When rhinoplasty is performed by a skilled doctor, symmetry and facial positioning are taken into account. Whether the rhinoplasty was chosen for medical or aesthetic reasons, part of the goal will be to enhance facial balance with a nose job.
When someone chooses rhinoplasty specifically to restore symmetry there are some common concerns that rhinoplasty can address. These concerns include the size of the nose in relation to eyes and mouth, as well as the width of the nose bridge, and the shape, form, and size of the nasal tip. These factors influence the overall appearance of facial symmetry. Adjusting the size of the nostrils, correcting any deviation and aiming the nasal tips are all possible aspects of rhinoplasty that can enhance the symmetry of your face and increase your attractiveness.
Why Should You Choose Dr. Sam Rizk to Enhance Facial Balance With a Nose Job?
Dr. Rizk has the skill and expertise to perform successful rhinoplasty in his New York office and address your nose concerns. Dr. Rizk is not only sought out to perform rhinoplasty but revision rhinoplasty as well. As a renowned facial plastic surgeon, he will take all facial features into account and suggest complimenting procedures if he believes other treatments can contribute to the best end result.
Praised by his peers, patients and even celebrities for his balanced and natural results, Dr. Rizk understands both the inside and outside structures of the nose and uses the latest techniques to keep the internal supportive structures intact. This ensures solid, beautiful long-term results.
Book a Consultation in NYC Today!
Would you like more information about how a nose job can contribute to overall facial balance? Are you looking for a trusted doctor to enhance facial symmetry with a nose job? Then book a consultation with Dr. Rizk today. He will take the time for an honest assessment in order to provide the best approach for your situation and goals.
Related Blog Posts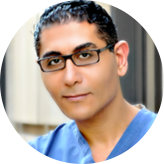 By Dr. Sam S. Rizk, M.D., FACS.
Dr. Rizk is a double board-certified facial plastic surgeon who specializes in rhinoplasty surgery and a recognized expert on the latest advances in facial plastic surgery techniques. He performs a range of facial plastic surgeries at his New York practice.