How to Use Instagram to Research Rhinoplasty Surgeons
Posted by Dr. Sam Rizk August, 08/13/2020 - 07:45 PM
Choosing the right rhinoplasty surgeon can be a challenging task, especially with the wealth of medical professionals now offering this procedure as part of their services. However, the task is made increasingly easier thanks to popular social media channels such as Instagram.
In this article, NYC facial plastic surgeon, Dr. Sam Rizk is going to share some tips on how to use Instagram to research rhinoplasty surgeons in your area. Dr. Rizk is a double board-certified facial plastic surgeon specializing in rhinoplasty and facelifts, among other facial procedures.
Top 6 Tips to Use Instagram to Research Rhinoplasty Surgeons
While everyone has their method for browsing the web and social media, here are five sure-fire ways to find the right plastic surgeon for your rhinoplasty:
1. Use the Correct Hashtags
Hashtags are by far the easiest way to research on Instagram. Simple searches such as "#RhinoplastyNYC" or "#NoseJobNewYork", for example, will provide you with a wealth of posts from both satisfied patients and renowned plastic surgeons. Make sure to always include your location in your search terms.
2. Don't Fall for Just the Lifestyle Element of a Profile
Today, there are numerous plastic surgeons selling a specific lifestyle over their actual services. While this may be the reason you're primarily attracted to the page, don't forget the reason for your search. Choosing a rhinoplasty surgeon based on the car they drive or watch they wear could lead to a botched nose job.
3. Always Check Before and After Photos
When looking at a rhinoplasty surgeon's Instagram account, check that they have uploaded before and after photos of their work. This will give you a good idea of the results they provide. You may also find a patient that has a similar issue to yours that you can refer to when you contact the surgeon's office.
4. Check The Plastic Surgeon's Feed
A plastic surgeon whose latest posts date back 5 years is not highlighting their latest work. You should always look at your surgeon's most recent shots to get a feel for the techniques they use. It's also a great way to see the latest results they've provided their patients with.
Additionally, their feed should be organized so that you can clearly find the photos you want. For example, a surgeon that organizes their feed with a specific album for rhinoplasty is keen to show off the work they do. A quality profile shows attention to detail, something a rhinoplasty surgeon should have plenty of!
5. Look for Testimonials or Patient Reviews
Last but not least, patient reviews are what will allow you to truly hear from other satisfied patients. While a rhinoplasty surgeon is not likely to share negative reviews on their Instagram profile, you may notice that they have multiple positive testimonials that were from recent patients. Handwritten and recent reviews are all great qualities to look out for.
6. Look for the Surgeon's Credentials
Once you have finalized your shortlist of surgeons, it's important that you research them online. Find their official site on Google to check that they keep it up-to-date. Also, check their credentials and make sure that they are board-certified before calling their office.
A rhinoplasty surgeon that keeps their Instagram profile active and up-to-date is proud of their work and normally responsive to new inquiries. If you would like to consult with one of the leading facial plastic surgeons in New York, call Dr. Rizk's office today and one of his friendly team members will be happy to schedule you in!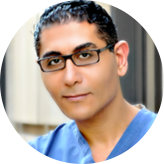 By Dr. Sam S. Rizk, M.D., FACS.
Dr. Rizk is a double board-certified facial plastic surgeon who specializes in rhinoplasty surgery and a recognized expert on the latest advances in facial plastic surgery techniques. He performs a range of facial plastic surgeries at his New York practice.