Is Rihanna's Nose the Latest Plastic Surgery Inspo?
Posted by Dr. Sam Rizk July, 07/30/2018 - 08:52 PM
Hip hop goddess and make-up mogul Rihanna is inspiring something other than dance moves.
Many fans of the singer-turned-actress are visiting facial plastic surgeons and requesting her…nose. It's even been referred to online as a 'rihannaplasty."
Used to besting others on the pop charts, this time Rihanna is beating out celebs for the most requested nose, usurping Meghan Markle, the newly minted Duchess of Sussex.
And why not? It's symmetrical and straight with a slight upturn.
Dr. Rizk responds:
Rihanna's nose looks great … on Rihanna's face. However, it may not be quite as perfect for you. There are inherent dangers of such celebrity emulation as they set the stage for unrealistic expectations and resulting disappointment. Even if you had RiRi's exact nose, you wouldn't have her life. Yes, you may breathe better and your self-confidence may grow, but you are not going to wake up with her style, entourage or career. Unfortunately, it doesn't work that way.
Ethnic rhinoplasty is one of my specialties and an operation I enjoy performing. Not all ethnic noses are the same, but they tend to have two things in common that can make rhinoplasty more complex; namely thick skin and weak tip cartilages.
Michael Jackson's post-plastic surgery nose had a chilling effect on ethnic rhinoplasty as people feared that they would end up with a Westernized nose if they requested a similar procedure. Times have changed. Today, the trend is about enhancing or perfecting ethnic features of the nose – not obscuring them. I cannot say whether Rihanna had nose reshaping surgery, but her nose preserves her ethnicity and works well on her face.
It is important to choose a facial plastic surgeon with extensive experience in treating the skin of colored patients and ethnic rhinoplasty and revision rhinoplasty. It is a unique skill set and not every surgeon who does rhinoplasty operations has mastered the required techniques. This is the best way to maximize your satisfaction with the results and minimize any risks such as scarring and/or pigment anomalies. Always ask to see before and after photos of patients who share your ethnic background and type of skin and nasal structures to get an idea of what you can expect.
Check out double board-certified facial plastic surgeon Dr. Sam Rizk's gallery of photos of African American rhinoplasty patients here. https://www.drsamrizk.com/african-american-rhinoplasty.html
Related Blog Posts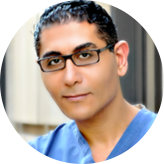 By Dr. Sam S. Rizk, M.D., FACS.
Dr. Rizk is a double board-certified facial plastic surgeon who specializes in rhinoplasty surgery and a recognized expert on the latest advances in facial plastic surgery techniques. He performs a range of facial plastic surgeries at his New York practice.