Open Vs Closed Rhinoplasty (Nose Job) – Which is Best for Me?
Posted by Dr. Sam Rizk October, 10/29/2020 - 11:50 AM
When we talk about a rhinoplasty (nose job) it can sometimes be a catch-all term, whereas there are different types and techniques of rhinoplasty. You may have heard the terms open (AKA external) or closed (AKA endonasal) rhinoplasty. Dr. Rizk discusses the pros and cons of each procedure.
If you're considering having a nose job in NYC, your priority should be to talk to a facial plastic surgeon, who will assess your nose, discuss your reasons for wanting a nose job, and your expectations, and determine what they believe is the best course of action for you to take.
What is an open rhinoplasty?
During rhinoplasty, the skin, bone, and/or cartilage is altered to achieve the patient's desired look. There are only two ways to access the nose – and in an open rhinoplasty, the surgeon makes an incision on the inside of each nostril, as well as one through the columella (the skin between the nostrils), called a trans-columellar incision. This allows the surgeon to 'open' the nose to fully view the internal structure of the nose, and to make changes to the nasal tip.
What are the pros and cons of an open rhinoplasty?
With any surgery, there are pros and cons to the operation. The open rhinoplasty is one of the most often performed rhinoplasty techniques, and is commonly used by the surgeon to gain a full view of the anatomy and structure of the nose, and undertake more complex enhancements that aren't available through a closed rhinoplasty.
However, open rhinoplasty surgery can take longer, and patients may experience slightly more swelling and discomfort after this procedure. For those with concerns about scarring, the small trans-columellar incision is closed in a way that makes the majority of scars practically invisible – though there is a rare yet possible chance of scar-related side effects.
What is a closed rhinoplasty?
A closed rhinoplasty is a smaller, quicker procedure, where only the small incisions in the inner nostrils are made to access the upper ⅔ of the nose. This procedure is used for when there are minimal amounts of work to be done, where the surgeon does not need to reveal the inside of the nose.
What are the pros and cons of a closed rhinoplasty?
The closed rhinoplasty is generally a quicker procedure, and the only scars that are produced on the inside of the nose are not visible. However, upon investigation, it is sometimes determined that prior to or after a closed rhinoplasty, more work needs to be done or patients wish for more drastic results.
When you're considering a rhinoplasty, deciding between open vs closed rhinoplasty should not be the priority in your initial investigations. Dr. Sam Rizk is an internationally renowned facial plastic surgeon, who has performed thousands of rhinoplasty surgeries at his New York office. At your consultation, he will assess your nose and recommend the right surgery for you.
Thinking about a nose job in NY? Contact Dr. Rizk and the team at Manhattan Facial Plastic Surgery for a consultation.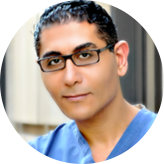 By Dr. Sam S. Rizk, M.D., FACS.
Dr. Rizk is a double board-certified facial plastic surgeon who specializes in rhinoplasty surgery and a recognized expert on the latest advances in facial plastic surgery techniques. He performs a range of facial plastic surgeries at his New York practice.