Postponing Rhinoplasty Surgery: 3 Things to Consider When Re-Booking Your Procedure
Posted by Dr. Sam Rizk September, 09/16/2020 - 06:27 PM
The decision to undergo a rhinoplasty (also known as a nose job or nose reshaping procedure) is a big choice for many people – whether it is for medical, functional or cosmetic reasons. The decision to postpone surgery can be difficult too, and there have also been many instances where procedures have had to be postponed due to the Coronavirus outbreak here in New York and the rest of the US, and the risks posed by virus transmission during surgery.
Your first priority should be talking to your surgeon, who will guide you through the procedure, and discuss your options with you. They will advise you on what you should do, or if anything needs to change, and answer any questions you may have.
Whatever the reason for postponing your surgery, here are three things to consider when doing so:
Make Sure It Fits Into Your Calendar
Surgeries can sometimes be postponed for weeks or months, or maybe into the next year. While it may be difficult to determine what exactly you'll be doing that far in advance, it's important to have your calendar ready to accommodate a surgery. You'll need to think about not just taking time off for both the surgery and ample recovery time, but ensuring you have childcare booked if necessary, or that you'll have no other important commitments that may conflict with your surgery or recovery.
You Should Be Healthy
As above, it can be hard to know how you'll be feeling weeks or months in advance, but precautions can be taken to ensure you'll be well enough to go through with surgery – such as taking all the usual steps to prevent flus and viruses, avoiding infections, and informing your doctor if you are, or plan on becoming pregnant.
Under general anesthetic, the body's immune response is slowed, so the healthier you are during surgery, the better your chances are of a great recovery.
It is extremely important that you alert your doctor prior to surgery if you are having any symptoms that could indicate that you have COVID-19.
Be Prepared
Preparation for surgery is not just physical, but mental. The chance for improved function in the nose, or a more pleasing physical appearance is exciting, but you must weigh this against the risks that can come with any surgery.
As part of your consultations, Dr. Sam Rizk, one of NYC's top facial plastic surgeons, will discuss the benefits and risks of your rhinoplasty with you, and ensure you are comfortable with proceeding.
Book Your Rhinoplasty Consultation Today
Dr. Rizk is not just a surgeon, but an artist. An expert in rhinoplasty and its complexities, he creates beautiful, natural results for his patients. And as a double board-certified facial plastic surgeon, you can be sure that you will receive the best of care before, during, and after your surgery.
If you would like to book a rhinoplasty consultation with New York facial plastic surgeon Dr. Rizk, contact us at Manhattan Facial Plastic Surgery today.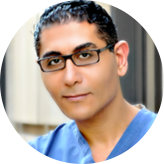 By Dr. Sam S. Rizk, M.D., FACS.
Dr. Rizk is a double board-certified facial plastic surgeon who specializes in rhinoplasty surgery and a recognized expert on the latest advances in facial plastic surgery techniques. He performs a range of facial plastic surgeries at his New York practice.