Rodrigo Alves & Multiple Rhinoplasty Procedures
Posted by Dr. Sam Rizk August, 08/07/2016 - 03:21 PM
A UK man coined "the human Ken Doll" provides a glaring example of why it's usually a bad idea to have multiple rhinoplasty procedures. Earlier this year the man, Rodrigo Alves, who is originally from Brazil but now living in London, suffered a flesh-eating infection following his seventh nose job. To date Alves has reportedly spent more than $500,000 on plastic surgery.
History of Problems
This is not Mr. Alves's first brush with dangerous postoperative complications. Three years ago he suffered life-threatening complications when silicone from a surgery meant to enhance his shoulders, biceps and triceps leaked into his system, leading to severe swelling that put him in the hospital, where he nearly died.
This time around, Alves was rushed to a hospital in Spain three months after his latest rhinoplasty surgery because his body had rejected new cartilage introduced to his nose during the procedure, triggering an infection that began to eat away at his nasal tissue and threatened to spread to other areas.
The first sign of problems came when he noticed a hole on the outside of one of his nostrils. Soon thereafter, according to Alves, his septum began to fall apart. After seeing multiple doctors in Spain Alves was informed that he was suffering from necrosis (tissue death), which occurs when there is a loss of blood supply to a particular area of tissue. Necrosis is a dangerous condition that can rapidly lead to other, even more severe — even life-threatening — complications such as gangrene and blood poisoning.
How to Avoid Dangerous Rhinoplasty Results
Mr. Alves's situation was entirely avoidable. There are a number of things rhinoplasty patients can do to avoid complications from the surgery.  A qualified, board-certified facial plastic surgeon can devise a good surgical plan that takes aging — not to mention the number of previous procedures performed — into consideration. Ideally, patients should aim to have just one rhinoplasty procedure that addresses all of the issues they wish to correct.
The best way to ensure such an outcome is to consult with a few surgeons and choose the right one for your needs. It is important to be careful and thorough when choosing your surgeon. Do your best to locate a surgeon that puts your health, safety and overall well-being first. A surgeon that urges you to have procedures you don't want is not the right one for you.
Instead, your surgeon should emphasize safety and care. Make sure to read through surgeons' reviews and testimonials from former patients. If you can, ask to speak to former patients, and make sure that they were happy with their results.
Choose a surgeon that is board-certified by the American Board of Facial Plastic and Reconstructive Surgery (ABFPRS). These are the surgeons with the most training in rhinoplasty and other facial plastic surgeries.
It's also a good idea to select a surgeon that has hospital privileges. This means that he or she has been vetted and approved by highly experienced medical professionals.
Once you have found an experienced, board-certified facial plastic surgeon to perform your procedure, pay close attention to what the surgeon tells you, including what sort of expectations you should have of the procedure.
A positive outcome from rhinoplasty can have substantial benefits in many areas. In addition to the physical benefits — rhinoplasty can improve breathing, correct a drooping nasal tip, or remove a bump, for example — cosmetic nose surgery can also reduce stress and boost your self-confidence.
But it is extremely important that you have realistic expectations of the surgery. Rhinoplasty will not transform every aspect of your life. In fact, experienced, reputable facial plastic surgeons will no treat patients with unrealistic expectations. To assess this, surgeons meet one on one with the prospective patient to make sure that the patient understands what the procedure can and cannot achieve. Attempting to arrive at aesthetic perfection through multiple cosmetic surgical procedures — an endeavor Mr. Alves set out to achieve — is not only unattainable, but also dangerous.
Good candidates for nose surgery and other facial plastic surgeries are in good health, do not have any life-threatening medical conditions and do not smoke. To find out if you are a good candidate for rhinoplasty, schedule an appointment with Dr. Rizk today.
Related Blog Posts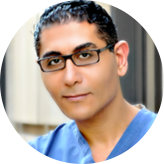 By Dr. Sam S. Rizk, M.D., FACS.
Dr. Rizk is a double board-certified facial plastic surgeon who specializes in rhinoplasty surgery and a recognized expert on the latest advances in facial plastic surgery techniques. He performs a range of facial plastic surgeries at his New York practice.