Should I Get a Revision Rhinoplasty with the Same Surgeon Who Performed My Primary Rhinoplasty?
Posted by Dr. Sam Rizk June, 06/03/2014 - 06:57 PM
If you are unsatisfied with the results of your first rhinoplasty procedure and are interested in having revision rhinoplasty, you may be wondering whether your should have the same surgeon perform your revision, or "secondary," nose surgery. As with any question relating to facial plastic surgery, there is no one-size-fits-all answer. It depends in large part on the individual patient and the gravity of the situation.
If something turned out slightly eschew, it may be OK to go back to your original surgeon for a minor touch-up, especially if the surgeon is a revision rhinoplasty specialist.
However, if you are deeply unhappy with the results of your primary procedure and feel that your original surgeon may be a factor in your negative results, you should seek the services of another surgeon — preferably a board certified facial plastic surgeon who specializes in revision rhinoplasty procedures. Rhinoplasty is probably the most difficult cosmetic surgical procedure to perform, and revision rhinoplasty is the most complex form of rhinoplasty. As a result, it is extremely important that you seek the help of a specialist, not just any plastic surgeon. Dr. Sam Rizk is one such specialist.
How Does Dr. Rizk Perform Revision Nose Surgery?
How Dr. Rizk performs the procedure depends on what he and the patient are trying to accomplish. The following are some of the most common problems Dr. Rizk addresses through revision rhinoplasty, and how he does it.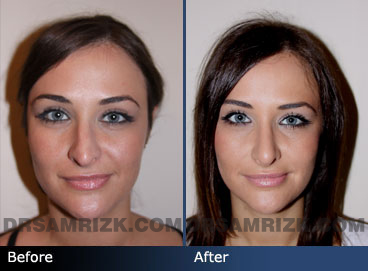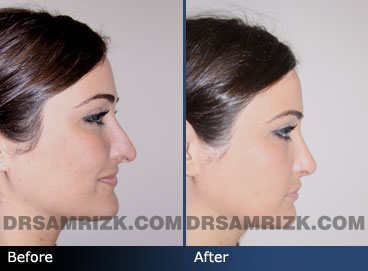 Retracted nostrils. The nostrils are said to be "retracted" when part of the ala contract upward, which leaves too much nostril "show." If a patient has retracted nostrils, Dr. Rizk will likely reposition the cartilage and use grafts to improve the appearance of the nostrils. Examples include alar batten grafts, alar rim grafts and composite grafts.
Pinched tip. When the nasal tip appears to "pinched," Dr. Rizk performs a procedure called tip plasty to reshape the tip with ear or other cartilage.
Saddle nose deformity. Also known as "scooped nose," this saddle-like formation around the septum occurs when something causes the septum to lower, such as trauma to the nose. Dr. Rizk repairs saddle nose deformities by raising the septum or by adding a cartilage graft to fill the depression.
Hanging columella. The columella is the strip of skin between the nostrils. A hanging columella is one that dips lower than desired, so that around 4mm of nostril is visible from the profile. To repair a hanging columella, Dr. Rizk may remove excess tissue, a portion of the septum and/or other cartilage. Rarely, he may reduce the nasal spine.
Short nose. Repairing a short nose involves releasing scar tissue from the primary rhinoplasty so that the tip can be moved to a less-rotated position. Grafting may be necessary as well. A short nose is one of the most difficult issues to fix; the key is to create adequate support to sustain the tip in its new position.
Pointy tip. A pointy tip occurs as a result of alar cartilages that are too prominent and appear too pointy. To address a pointy tip, Dr. Rizk may add fascia and/or shave cartilage. As with a short nose, repairing a pointy tip is a very challenging procedure.
What Makes Dr. Rizk Different from Other Rhinoplasty Surgeons?
Dr. Rizk is a specialist in revision rhinoplasty. This is important because most revision rhinoplasty procedures involved the "open" approach and are very complex, requiring considerable surgical skill. Many revision rhinoplasties involve grafting to strengthen and rebuild damaged nasal structures. Dr. Rizk is renowned for his ability to restore breathing, strengthen the nose and improve the appearance of the nose.
What makes Dr. Rizk a revision rhinoplasty specialist?
For one, his practice focuses solely on facial plastic surgery, with a particular emphasis on rhinoplasty procedures. Equally if not more important, he is a board certified facial plastic surgeon and otolaryngologist (ear, nose and throat surgeon) with extensive training and experience working with the external and internal structures of the nose. Dr. Rizk has an advanced understanding of the inside structure of the nose as well as the outside appearance, and he knows how to alter both, as appropriate. He is trained to handle both the external aesthetic appearance of the nose as well as functional issues such as breathing. Unlike general plastic surgeons, who divide their time between procedures of the body and face, board certified facial plastic surgeons like Dr. Rizk focus all of their time on procedures of the face.
Contact a Revision Rhinoplasty Specialist
If you are dissatisfied with the results of your primary rhinoplasty procedure and are looking for another surgeon to perform you revision rhinoplasty procedure, contact Dr. Rizk or another board certified facial plastic surgeon specializing in revision nose surgeries.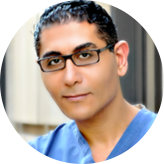 By Dr. Sam S. Rizk, M.D., FACS.
Dr. Rizk is a double board-certified facial plastic surgeon who specializes in rhinoplasty surgery and a recognized expert on the latest advances in facial plastic surgery techniques. He performs a range of facial plastic surgeries at his New York practice.