Steps You Should Take after a Poor Rhinoplasty
Posted by Dr. Sam Rizk May, 05/09/2014 - 10:00 AM
As the central feature of the face, the nose is perhaps the most important component of facial aesthetic harmony. If you had rhinoplasty to improve your nose's appearance but are not happy with the results, it's understandable that you might be stressed out or unhappy. But before concluding that the outcome of your nose job is poor, it is important to give your body time to heal, because the appearance of the nose will change as the weeks and months pass.
Your first step after rhinoplasty is to follow your surgeon's postoperative advice. It is normal for your face to be puffy. By following your surgeon's instructions, you should be able to reduce the swelling. After two weeks your appearance should improve, and after a month you will look even better. However, in some patients it can actually take up to a year for swelling to fully subside.
If after a year you are still unhappy with your appearance, it may be time to consider undergoing a secondary (revision) rhinoplasty procedure — possibly with a different surgeon.
Should I Ask My Surgeon's Advice?
The answer to this question depends on the results of your procedure. If something is just a bit off, it might be OK to return to your surgeon and see if you can get a minor revision. However, if you are very displeased with the outcome and you think your surgeon may have contributed to the negative results, you should contact a second surgeon — specifically, a facial plastic surgeon specializing in revision rhinoplasty. Nose surgery is possibly the most difficult of all cosmetic surgeries to perform, and revision rhinoplasty is particularly difficult. For this reason, should you need to undergo a secondary rhinoplasty, it is very important that you find an expert.
Choosing a Revision Rhinoplasty Surgeon
Most secondary rhinoplasties are complex procedures involving an invasive method called the open approach. The procedure requires advanced surgical skill and may require harvesting cartilage for grafts from other areas of the body.
Your surgeon should be a board certified facial plastic surgeon, such as Dr. Rizk, who focuses on rhinoplasty. Many facial plastic surgeons are dual board certified in facial plastic surgery as well as otolaryngology (ear, nose and throat surgery). These surgeons have an in-depth knowledge of the nose's internal structures and external appearance and are trained to know how to alter each, as needed, during nose surgery. Facial plastic surgeons typically complete a residency in otolaryngology or general surgery and then receive advanced training in facial plastic surgery.
Most general plastic surgeons do not receive as much training in each of these specific areas, as they also have to focus on plastic surgery procedures of the body.
One of Dr. Rizk's specialties is a revision rhinoplasty technique that both improves his patients' appearance and restores proper breathing. He has extensive experience dealing with functional problems as well as a multitude of aesthetic challenges. Contact his office to learn more about his experience and areas of expertise.
How Long Should I Wait Before Seeking a Revision Rhinoplasty Surgeon?
Most surgeons agree that you should wait a full year before considering revision rhinoplasty, as it may take up to a year for swelling to go down and results to materialize.
Do's and Don'ts                                             
Here are some do's and don'ts every rhinoplasty patient should adhere to following surgery, regardless of the result.
Do:
Consult a revision rhinoplasty specialist who is a board certified facial plastic surgeon.
Follow your surgeon's instructions to reduce swelling, pain, discomfort and bruising.
Wait a year before you decide to have revision rhinoplasty.
Avoid smoking.
Avoid sun exposure.
Don't:
Touch, rub, or bump your nose.
Smile, which can move the structures of the nose.
Sniff or blow your nose.
Sleep on your side. (Sleep on your back instead.)
Bend over or lift anything, which can cause swelling, raise your blood pressure, and cause bleeding.
Travel (for a couple of weeks).
Play contact sports or engage in vigorous exercise (for 4-6 weeks).
Consume alcohol, which thins the blood and may cause bleeding.
Wear glasses (for the first few weeks).
It is also very important that you have realistic expectations. Oftentimes those who are not satisfied with their rhinoplasty results had unrealistic expectations. Plastic surgery cannot cure depression or other psychological conditions.
To learn more about the steps you should take after a negative rhinoplasty result, contact Dr. Rizk's office today.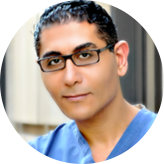 By Dr. Sam S. Rizk, M.D., FACS.
Dr. Rizk is a double board-certified facial plastic surgeon who specializes in rhinoplasty surgery and a recognized expert on the latest advances in facial plastic surgery techniques. He performs a range of facial plastic surgeries at his New York practice.