Talking About Plastic Surgery with Your Family
Posted by Dr. Sam Rizk September, 09/07/2016 - 08:50 PM
While society's view of cosmetic surgery is evolving in a more positive direction, there is no denying that some people still have negative opinions of it. For some people who are considering aesthetic enhancement, these opinions can be difficult to ignore, particularly if they are coming from close friends or family members. In some cases, people even decide to keep their cosmetic surgery plans to themselves to avoid unwanted comments or criticism. Ultimately, it is up to you whether to tell your friends and family that you plan to have cosmetic surgery.
What to Consider When Speaking with Family
There are several factors you should consider before speaking with family or friends about your plans to have cosmetic surgery.
1) Who to Tell
Whether or not you tell a particular friend or family member about your plans should obviously depend on your relationship with that person. For example, many (most) married people are hesitant to hide their plastic surgery plans from their spouse. On the other hand, keeping such plans from nosy co-workers is another story.
For each person you consider telling about your plans, consider how they will react. (Will they be supportive of you or judgmental?) But be aware that it is impossible to avoid all criticism. Even people you barely know may feel surprisingly free to tell you their opinion of your life and your decisions. So think hard about who you want to let in on this very important decision.
2) You Will Need Help Following Surgery
If you are planning on having an invasive procedure such as rhinoplasty or facelift, you will undoubtedly need help and assistance during the postoperative period. Usually this means enlisting the help of family and friends. So, while you should carefully consider who you can trust to be supportive of your decision, keep in mind that you also need the help of those that care about you.
3) Finances
Another potential factor is the cost and how you plan on financing the procedure. Plastic surgeons do frequently offer financing programs, but if your finances are intertwined with your spouse's or partner's, for example, it may still be hard to hide such as significant expenditure.
4) How Dramatic the Results Are
Certain minimally invasive treatments (e.g., Botox, fillers) have subtle results that most people won't even notice. On the other hand, the results of invasive surgical procedures are more readily apparent and may be difficult to hide.
5) Your Own Feelings
In the end, your own personal feelings and opinions about your own life are what truly matters. You don't have to completely disregard the opinions of those around you, but when it comes down to it, it's really none of their business. So, if you do decide not to tell someone, don't feel guilty about it. It's your life, after all.
6) The Role of Your Surgeon
Plastic surgeons are accustomed to keeping secrets and protecting the privacy of their patients. If you feel you can't count on many people to be supportive of your decision or keep it a secret, you can at least take comfort knowing that your surgeon will have your back.
Selecting a surgeon is a major decision. There are a number of things you should look for. First and foremost, if you are having a facial cosmetic procedure, make sure to choose a board-certified facial plastic surgeon that has extensive experience performing the procedure you are interested in having. Here are some other things to look for in a surgeon:
Fully committed to patient safety
Has hospital privileges
Uses state-of-the-art technology
Belongs to reputable medical organizations
Awards and honors
New York-based facial plastic surgeon Dr. Sam Rizk meets all of these criteria and can help you determine which treatment is right for you.
It's Your Decision
 Ultimately, the decision to have cosmetic surgery is yours and yours alone to make. The opinions of your family, friends or co-workers should not change your decision one way or the other. You can listen to others' opinions, but do what you feel is best for you.
To learn more about having cosmetic surgery and all the decisions involved, contact the office of Dr. Rizk today.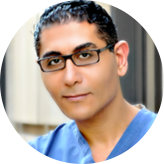 By Dr. Sam S. Rizk, M.D., FACS.
Dr. Rizk is a double board-certified facial plastic surgeon who specializes in rhinoplasty surgery and a recognized expert on the latest advances in facial plastic surgery techniques. He performs a range of facial plastic surgeries at his New York practice.