HOW YOUNG IS TOO YOUNG FOR NOSE RESHAPING SURGERY?
Posted by Dr. Sam Rizk May, 05/03/2018 - 12:02 AM
Rhinoplasty or nose-reshaping surgery can benefit self-esteem and even improve a person's ability to breathe, but such benefits are most dramatic when the procedure is matched to the right person. Age is often a key factor in this decision.
There is no one-size fits all answer on how young is too young for rhinoplasty, and many teens today are seeking rhinoplasty surgery earlier.
The ultimate decision is based on these key factors:
Physical development – Has the nose stopped growing? In general, a girl's nose stops growing at age 15-16 and a boys' nose is usually done by about 16 or 17, but there are always outliers. If nose reshaping surgery is performed too early, the nose will be out of proportion with the rest of your features. A minimum age is 13 and up, but this is a very individual determination.
Maturity level – Is the teen emotionally ready for the rhinoplasty procedure and all it entails? This includes their ability to understand and follow pre- and post-surgery instructions.
Expectations – Will a nose job change a teen's life? Yes, in many cases it can, but it won't necessarily turn a chess champ into a prom king or queen on its own. It may improve self-confidence, which of course, will have spillover effects on the desire to socialize. If there are issues of breathing or the teen sounds like they are underwater when speaking, it may also improve these situations.
Dr. Rizk's observations:
The teen-rhinoplasty consultation is essential. I spend a great deal of time with teenage patients and their parents to discuss their goals, expectations as well as candidacy for the procedure. Importantly, the decision to have rhinoplasty can only be made by the teen, not by his or her parents. If the parent is eager to proceed and the teen is unwilling, that may be cause for concern and requires additional consideration before making the decision.
Rhinoplasty is not a magic bullet for all that ails today's teens, but for some, it can have profound effects. If your teen is considering rhinoplasty, schedule a consultation with a board-certified facial plastic surgeon who has experience with this age group and the specific concerns surrounding teen rhinoplasty. He or she will listen and take age and anatomy into consideration when devising a treatment plan. If he or she suggests that the teen wait until their nose has stopped growing, it is wise to listen.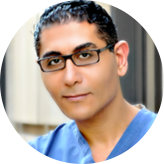 By Dr. Sam S. Rizk, M.D., FACS.
Dr. Rizk is a double board-certified facial plastic surgeon who specializes in rhinoplasty surgery and a recognized expert on the latest advances in facial plastic surgery techniques. He performs a range of facial plastic surgeries at his New York practice.