THE DIFFERENCE BETWEEN MALE AND FEMALE RHINOPLASTY
Posted by Dr. Sam Rizk January, 01/15/2019 - 04:00 PM
Whenever a facial plastic surgeon performs a rhinoplasty procedure, the surgery should be tailored to the patient's anatomy and preferences. This involves careful consideration of each patient's skin type, skin thickness, bone structure, nasal tip position, and all other facial features. It also means considering the gender of the patient.
Male and female physiology makes a big difference in the way facial surgery is performed. New York City facial plastic surgeon Dr. Sam Rizk customizes every procedure and technique for all facial procedures, including eyelid surgery, facelifts, neck lifts, rhinoplasty, and revision rhinoplasty.
If you consider the differences between male and female rhinoplasty, it takes special skill and expertise apply the best approaches to reshape the nose and improve both internal function and external features in one operation. Facial plastic surgeons are specially trained to perform the most difficult rhinoplasty and revision rhinoplasty procedures.
The Anatomical Differences
There are some vital differences between male and female anatomy that affect a facial plastic surgeon's approach to rhinoplasty.
Men tend to have thicker, oilier skin which can be harder to sculpt. Male noses tend to be more prominent, whereas women usually prefer a more delicate nose with a shorter tip. A petite overly sculpted nose would not suit most male faces. The ethnicity of the patient may also determine the ideal size and shape of the desired nose. Thicker skin often presents greater challenges for the aesthetic rhinoplasty surgeon.
These differences lead to unique approaches to the way the skin drapes over the underlying structures of the nose during the rhinoplasty procedure. There is no single approach to rhinoplasty that should be used for all patients. Rather, an expert rhinoplasty surgeon will perform a comprehensive examination and consultation with each patient to form a treatment plan to meet the individual patient's aesthetic goals.
Range of Aesthetic Goals
Men and women also have very different aesthetic goals when it comes to nose reshaping surgery. A larger male nose and dominant chin and jawline are often perceived as a sign of masculinity and strength.
It is not uncommon for men to choose rhinoplasty to correct a sports injury or broken nose. This procedure combines reconstructive surgery to address the septum and improve breathing function, as well as the aesthetics of the external nose. Men often prefer a more distinctive appearance to the nose with a wider dorsum or bridge.
Women tend to prefer a more delicate appearance to the nose with a thinner bridge to bring out their eyes, lips, and cheekbones. A subtle upward angle at the tip of the nose tends to bring out more feminine facial features.
Customizing Your Rhinoplasty
New York facial plastic surgery Dr. Sam Rizk is an expert rhinoplasty and revision rhinoplasty surgeon. He will carefully design a treatment plan specifically tailored to the needs of the patient to meet their anatomical and aesthetic preferences. His overriding goal is to achieve a natural-looking result without an over operated appearance for all of his patients, both male and female.
To schedule an appointment with New York City double board-certified facial plastic surgeon Sam Rizk, MD, call 212-452-3362 or click here.
Related Blog Posts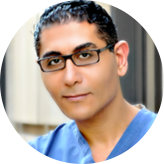 By Dr. Sam S. Rizk, M.D., FACS.
Dr. Rizk is a double board-certified facial plastic surgeon who specializes in rhinoplasty surgery and a recognized expert on the latest advances in facial plastic surgery techniques. He performs a range of facial plastic surgeries at his New York practice.