Patients often ask me if rhinoplasty can give them the nose of a celebrity. While there is nothing wrong with admiring a celebrity's nose, that's where it should end. In other words, you should not ask your facial plastic surgeon for someone else's nose — famous or otherwise. Kim Kardashian and Scarlett Johansson may be beautiful, but neither of their noses will look good on you. Your nose is specific to your face, which is why your rhinoplasty procedure must be tailored to your individual needs.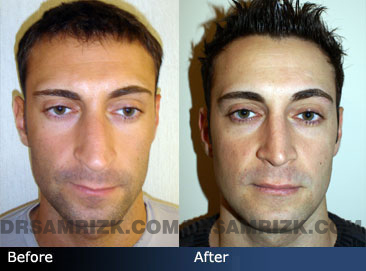 The Most Popular Celebrity Noses
While you can't have someone else's nose, admittedly it is fun to admire celebrities faces and talk about what makes them beautiful. Which celebrities have the most popular noses? Here is a list of some of the ones I hear discussed most often:
Kim Kardashian
Scarlett Johansson
Halle Berry
Jennifer Aniston
Angelina Jolie
Natalie Portman
Ashlee Simpson
Kate Beckinsale
Cameron Diaz
Kate Middleton
Blake Lively
Heidi Klum
Kelly Rowland
Rachel McAdams
Jessica Alba
Dianna Agron
Megan Fox
Ivanka Trump
Ashley Tisdale
Nene Leakes
Jessica Biel
Lady Gaga
Winona Ryder
Charlize Theron
Emma Stone
Heidi Montag
Though men are less likely to talk about other mens' noses, a few names seem to come up fairly often, including Patrick Dempsey, Ashton Kutcher and Ryan Seacrest.
Which Celebrity Noses Do People Want to Copy?
As the central aspect of the face, the nose is the facial feature people's eyes are most drawn to. It is natural, therefore, that we would want our noses to be perfect and in proportion with the rest of our face.
Patients come to me with a diversity of aesthetic goals. For example, many of my male patients seek rhinoplasty to reduce the size of a nasal hump, while my female patients are often interested in refining the nasal tip. Many patients of both sexes seek to correct a nose that is too long, crooked, large, twisted, or asymmetric.
In seeking to make these corrections, many of my patients are inspired by the noses of celebrities. This is fine. But again, what isn't fine is wanting to have or copy the nose of a particular celebrity.
Here are some of the noses people often ask facial plastic surgeons to copy.
Halle Berry
Berry's current nose is considered to be among the most successful examples of rhinoplasty. Prior to having rhinoplasty her nose was broader.
Natalie Portman
The fact that Portman's nose is so well-proportioned without having been altered makes it even more amazing.
Kate Middleton
Middleton's nose is almost perfect, with straight structure and a well-shaped tip.
Kate Beckinsale
Another gorgeous Brit, Beckinsale has a perfectly angled nose, with no bumps or irregularities.
Heidi Klum
One of the most prosperous models of all time, Heidi Klum owes some of her success to that perfect nose. Klum's nose is very straight and has a nice bridge. Reshaping the bridge is one of the most common rhinoplasty corrections.
Angelina Jolie
One of Hollywood's most stunning actresses, Angelina Jolie's perfectly rotated nose complements her famous lips, as well as the other features of her face.
Jessica Alba
Jessica Alba's cute button nose is the envy of countless women. Not too wide and not too narrow, it is balanced perfectly with the rest of her facial features.
Scarlett Johansson
The secret to Johansson's beautiful nose is the fact that her nasal bridge and other nasal components are so well structured. Some people need dermal fillers or bridge work to achieve such a beautifully structured nose.
Ivanka Trump
Some people with wide nostrils require rhinoplasty to achieve the beauty of Ivanka Trump's nose, which is notable for its small tip and lack of nostril flare.
Jessica Biel
Jessica Biel's sturdy, straight, symmetric nose is one of the keys to her stunning looks. Symmetry is one of the main components of beauty.
Charlize Theron
There are many things to admire about Charlize Theron, most notably her acting and her looks. Her nose is nearly perfect, with just the right volume in the tip. Correcting a bulbous tip is a challenging procedure that requires the skill of a rhinoplasty specialist.
Kim Kardashian
Being in the news so often, perhaps it should come as no surprise that the celebrity whose nose is most often requested at my practice is Kim Kardashian. Of course, there is the before nose and the after nose, because she has had rhinoplasty.
Emma Stone
One of the most popular noses in the United Kingdom is Emma Stone's, which has a perfectly upturned nasal tip.
Rachel McAdams
Small imperfections can sometimes add to a woman's beauty, if they're not too conspicuous. Such is the case with Rachel McAdams, whose nose has a small indentation on the right side.
What Do You Do When Patients Request a Celebrity Nose Job?
I view patients who request the nose of a specific celebrity with more scrutiny than I would the average patient. In many cases, people who make these requests have body dysmorphic disorder or, at the very least, unrealistic expectations.
Your goal in having rhinoplasty should be to achieve symmetry and harmony with the other features of your face, not to replicate someone else's nose. That being said, when you come to my office you will be cared for as if you were a celebrity. You will be treated with respect and courtesy, and I will take the time to discuss your goals and explain your options in detail.
To learn more about having rhinoplasty at my practice, contact me today.
Related Blog Posts