Three Questions to Ask Before Booking A Revision Rhinoplasty
Posted by Dr. Sam Rizk July, 07/02/2018 - 12:01 AM
Rhinoplasty is one of – if not the – most popular facial plastic surgery procedure. It is also among the most technically challenging, which means that revision or secondary rhinoplasty can be even more challenging for many reasons including the presence of scar tissue.
Of course, no one goes into rhinoplasty anticipating a second procedure. (Two-stage rhinoplasty may be an option for some individuals). Reasons for revision rhinoplasty may include cosmetic dissatisfaction with the results or the development or worsening of breathing problems since your primary nose job. Even if everything is done right, scarring, cartilage warping, and unusual healing can occur. Statistics vary, but approximately 15 percent of primary nose jobs require revisions for one reason or another.
Some people return to the plastic surgeon who performed their original procedure for a revision. Others, however, seek out a new surgeon who specializes in revision rhinoplasty. Your revision rhinoplasty surgeon does have an advantage over the initial surgeon. He or she knows how your nose responded to surgery, which provides a heads up on any potential healing issues.
If you are considering revision rhinoplasty, Dr. Sam Rizk, a double board-certified facial plastic surgeon in New York City, suggests asking these important questions before you proceed.
Has it been at least a year?
Typically, it is necessary to wait one year for the swelling to abate prior to undergoing a revision or secondary rhinoplasty. There are rare exceptions to the rule such as an obvious deformity that may need to be repaired sooner. If you go back for a revision rhinoplasty too soon, you can turn a minor problem into a major disaster. Be patient.
Is your surgeon qualified?
Choosing a board-certified facial plastic surgeon who has a history of success with revision rhinoplasty is a key consideration. Revision rhinoplasty can be challenging, and you really want to find a "super-specialist" to perform your secondary rhinoplasty. Ask to see before and after pictures of other revision rhinoplasty patients during your consultation. You can also ask the facial plastic surgeon if he has some patients that you could speak with before your surgery if that may assuage some of your concerns.
Are your goals realistic?
Expectations matter, and if yours are not realistic when it comes to what can be achieved with revision rhinoplasty, you will likely be disappointed with the results and with your surgeon. Make sure you and your surgeon are on the same page about what can be achieved aesthetically or functionally before you book your surgery. Several limitations, such as the thickness of your skin, your aesthetic goals, the extent of previous surgeries, and your other facial features all factor into achieving the optimal results. Revision rhinoplasty is an intense journey, so it is advisable to see several board-certified facial plastic surgeons in consultation before making a final decision.
If you would like to read more about Dr. Rizk's approach to revision rhinoplasty, click here.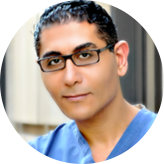 By Dr. Sam S. Rizk, M.D., FACS.
Dr. Rizk is a double board-certified facial plastic surgeon who specializes in rhinoplasty surgery and a recognized expert on the latest advances in facial plastic surgery techniques. He performs a range of facial plastic surgeries at his New York practice.