Why Are Nose Jobs So Common Among Celebrities?
Posted by Dr. Sam Rizk April, 04/04/2014 - 10:00 AM
You may have noticed that a lot of celebrities have perfect noses. Or perhaps you've seen a change in the way one of your favorite celebrities looks and wondered if they "had something done." The answer, most likely, is yes. My fellow facial plastic surgeons and I have seen a rise in the demand for nose jobs, among both celebrities and the public at large. In fact, rhinoplasty is now the most popular cosmetic procedure among women and men under the age of 35, according to the American Academy of Facial Plastic and Reconstructive Surgery (AAFPRS).
Why Are Nose Jobs So Common Among Celebrities?
The nose is the central feature of the face. A well-shaped nose can create overall facial aesthetic harmony. On the flip side, a nose that is too big or has a hump or an upturned tip can have the opposite effect. Rhinoplasty can address such concerns and have a dramatic effect on a person's appearance. Celebrities realize this, and their livelihoods depend on their looks, so if they are unsatisfied with the appearance of their nose, they won't hesitate to get a nose job. This is why nose jobs are so common among celebrities.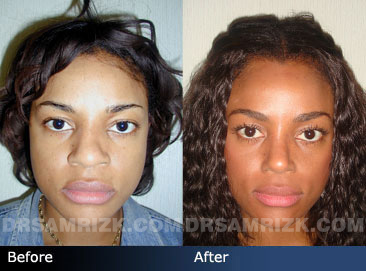 The Increase of Rhinoplasty Among Celebrities

The increase of rhinoplasty cases among celebrities — and others — can be explained largely by the evolution of technology and the explosion in popularity of self-taken photos, or "selfies." Programs and apps such as Skype, Facebook, and Twitter give us constant reminders of what we look like, and the ubiquity of smartphones means that we now have selfies at our fingertips. Perhaps it should come as no surprise, then, that we are more apt to want to improve our looks than we used to be. One in three surgeons in a recent survey of AAFPRS members reported that social media had contributed to a rise in the demand for rhinoplasty in their practices. Rhinoplasty cases rose 10 percent between 2012 and 2013, the organization reports.
Do You Take More Time on Celebrities' Procedures?
Absolutely not. I value all of my patients equally and take as much time as necessary on each person's rhinoplasty procedure. This includes your preoperative consultations and exams, the procedure itself and your postoperative recovery and monitoring. My services cost more than some surgeons', but one of the reasons is my total devotion to all my patients. As the saying goes, you get what you pay for.

At My Practice You Will Receive Celebrity Treatment
If you choose me to perform your nose job you can expect to be treated like a celebrity.
It all starts with the preoperative consultation. I will take the time to have a one-on-one discussion with you in which you will have the opportunity to get answers to any and all of your questions, including anything you'd like to know about me in terms of experience, training, board certifications and so forth. You can show me pictures of noses you like. This will allow us to make sure that your expectations are realistic and ensure that you end up with the appearance you've been dreaming of. We will also cover your medical history and any medications you're taking. Once we have gone over all of this important information, I will be able to determine if you are a good candidate for a nose job, and if so, what type of rhinoplasty approach would be best in your case. If there are multiple options, we will discuss all of them. We will also discuss any procedures that might complement your nose job. And, using state-of-the-art 3D imaging, I will give you an idea of what you will look like after your procedure.
You will also receive celebrity treatment during the procedure itself. I use only the best, most advanced technologies when performing rhinoplasty. For example, during your nose job, I will use a special scope to view the inside of your nose. This scope projects precise pictures onto a screen in the operating room, which allows me to make smaller incisions and perform precise excision of the nasal cartilage and bone, as necessary. The advanced technology I use leads to more-natural outcomes because I am able to avoid causing undue trauma to the nasal tissues.
These are just some of the ways you can expect to be treated like a celebrity if you choose me to perform your nose job. To learn more, contact my office today to schedule a consultation.