Why Do Celebrities Get Nose Jobs & Who Loves Them?
Posted by Dr. Sam Rizk February, 02/04/2014 - 04:14 PM
Songbird Barbara Streisand notoriously did not have one, and Glee actress Lea Michele has said publicly that she won't get one. But shock jock Howard Stern, actress Jenifer Aniston, and singers Britney Spears and Miley Cyrus reportedly have had one (or maybe more, depending on who you believe and what you read).
We're talking about nose jobs (rhinoplasty), of course, and the celebrities who love them, hate them or have a love-hate relationship with them.
Nose jobs remain the "most popular" facial plastic surgery procedure, according to a recent survey by the American Academy of Facial Plastic and Reconstructive Surgery.  They are also the most common surgical facial plastic procedure for both men and women under 35 – many of whom may be the very same celebrities gracing the covers of glossy magazines, appearing in blockbuster movies and starring on our favorite TV shows.
So why do celebrities seek nose jobs?  The reasons vary. For some, it may be to correct asymmetry or create facial harmony. Some may wish to obscure or even enhance their ethnic identity. Others still may wish to improve their nasal breathing and some may look to correct an injury or birth defect.  For some, the nose surgery may be intricate and involved and for others, it can be a minor softening of a stark feature.
Some celebs actually shun nose jobs for fear that the surgeries will affect their trademark singing or speaking voice and that any dramatic change will damage their brand or image.
In truth, many of us seek or avoid rhinoplasty for similar reasons as celebrities. Sam Rizk, MD, a double board-certified New York facial plastic surgeon and director of Manhattan Facial Plastic Surgery, PLLC, has extensive experience treating high profile clientele and treats all of his rhinoplasty patients like celebrities. He has operated on famous celebrity singers, delivering outcomes that do not impact the sound of the voice. To ensure a high-quality outcome, Dr. Rizk doesn't use an endotracheal tube in the voice box. He operates with an LMA tube outside of the voice box, never touching the vocal cords. In fact, many patients report being able to sing better due to improved breathing from the repair of septum and shrinkage of the turbinates concomitantly with their rhinoplasty.
During the initial rhinoplasty consultation, Dr. Rizk will ask you to describe your functional or aesthetic concerns about your nose. This candid conversation will help guide the surgical plan for your rhinoplasty. If you have concerns about your voice, discuss them with Dr. Rizk during your consultation to see if a nose surgery will affect your singing or speaking voice.  For some people, rhinoplasty can actually improve voice quality. If you sound nasal, for example, rhinoplasty can open your airways and change your speaking voice. By contrast, a singer like Barbara Streisand may have worried that a nose job would ruin her golden voice.
After examining your face and nose, Dr. Rizk will tell you if your aesthetic and/or functional expectations are realistic and can be met with nose reshaping surgery.
For example, some individuals may come in with photos of celebrity noses to illustrate the type of nose they think they want. The keyword here is "think". It is helpful to bring photos of noses that you admire or even abhor so that Dr. Rizk gains a clear idea of what you are looking for in a rhinoplasty. That said, not everyone will look good with Angelina Jolie's nose. Dr. Rizk will provide his expert opinion on whether or not the nose fits your face. He is known for natural looking enhancements.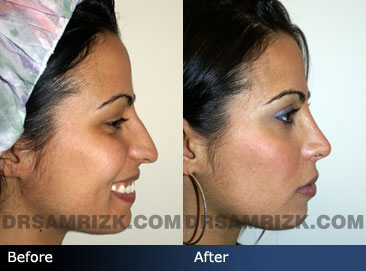 People travel from near and far, from as close as New Jersey to as far as Europe and Asia, to see Dr. Rizk for rhinoplasty because of his stellar aesthetic results and some of the rapid recovery advances that he helped pioneer. For example, Dr. Rizk uses 3D High Definition technology and powered micro-instruments to smooth cartilage edges and reduce nasal humps.  These tools allow for a more precisely crafted and natural looking nose. In addition, there is less bruising and significantly shorter recovery time than with a traditional nose job when these tools are utilized. Dr. Rizk also uses tissue glues rather than drains.  Tissue glues speed healing, and reduce bruising and swelling. They also eliminate the problems, maintenance, and discomfort that can be associated with postoperative drain use.
Regardless of whether you are an A-list celebrity, a Real housewife, a working mother or a college student, choosing a qualified and experienced facial plastic surgeon such as Dr. Rizk to perform your rhinoplasty is the number one way to maximize your chances of a successful outcome. Follow your surgeon's pre- and post-operative instructions carefully to minimize any risks of complications.  Always listen to your surgeons' suggestions about what will or won't work with your face and features.
Rhinoplasty costs may be a consideration for non-celebrities and celebrities alike. While insurance does not cover purely cosmetic surgeries, it may cover some or all of the expenses associated with a functional rhinoplasty. Dr. Rizk's office staff can answer any questions that you regarding insurance and provide the necessary documentation for your insurance company.
To learn more about getting rhinoplasty, contact Dr. Rizk's office today.