Face, Neck, and Chin Procedures Before Heading Back to The Office
Posted by Dr. Sam Rizk July, 07/15/2021 - 03:24 PM
Before the Covid-19 pandemic, most New Yorkers had never used Zoom before. Now it's an integral tool in our daily lives.
While Zoom and video calls have been essential for communicating during this time, looking at oneself constantly on camera has caused people to become more aware of their physical flaws. This has led to a recent increase in plastic surgery procedures.
As one of New York's leading facial plastic surgeons, Dr. Sam Rizk observed an increase in certain procedures as people gained weight and are getting ready to spend more time at the office.
Why the Change?
As people were unable to go out as much this past year, they began spending more time on their electronic devices. Looking down at a screen for too long can cause changes in the neck and chin area, often resulting in a double chin.
The other explanation for the increase in plastic surgery is that people are spending more time looking at their own faces during their Zoom meetings. Continually staring at certain features has made some people hyper-aware of small imperfections they would like to correct.
2021 Most Popular Face Procedures
Based on what Dr. Rizk sees in his office so far, these are the top procedures this year:
Facelifts
During a facelift, the fat in the face is repositioned to create a youthful appearance in the cheeks. Excess skin is removed, and the remaining skin is tightened. During your consultation, Dr. Rizk will advise if a facelift is right for you, or whether you should combine it with another procedure as well.
Necklifts
Having loose muscles in your neck is a natural sign of aging. A neck lift can smooth out drooping skin. Dr. Rizk carefully trims away the excess skin to create a younger-looking neck with no excessive tightness. The recovery process takes about seven days, after which patients can start showing off their new look.
Chin Augmentation
Dr. Rizk's chin augmentation surgery involves a small incision under the chin and then implants are placed in the desired areas. This surgery improves the chin's appearance and makes the entire face look more balanced. The patient remains sedated during the surgery and can go home the same day of the procedure..
Come Visit Us Today!
If you have been thinking about facial plastic surgery, now is a good opportunity to get it done before Labor Day, where some companies ask their employees to go back to work from the office. Contact us for a private consultation. We will go over your desired results and make a customized plan to achieve them.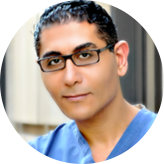 By Dr. Sam S. Rizk, M.D., FACS.
Dr. Rizk is a double board-certified facial plastic surgeon who specializes in rhinoplasty surgery and a recognized expert on the latest advances in facial plastic surgery techniques. He performs a range of facial plastic surgeries at his New York practice.