How to Get the Most out of a Virtual Consultation
Posted by Dr. Sam Rizk September, 09/21/2020 - 03:25 PM
With the Coronavirus pandemic still ongoing and many people working or learning from home, virtual consultations are here to stay. We recently wrote about why virtual consultations will continue after COVID-19, but this month we have a few tips on how to get the best from your virtual consultation.
While it may not feel the same as an in-person consultation, virtual or video consultations can still be highly valuable for both Dr. Rizk and his patients, especially when factoring in the saving of travel costs and time. Don't forget that telemedicine consultations can now be covered by insurance reimbursements, and changes to HIPAA data and privacy regulations mean that patients can now have video calls over popular platforms like Skype or FaceTime.
Here are Dr. Rizk's top tips on getting the most from a virtual consultation:
Come Prepared
Just like you might do for a normal consultation, be prepared with any questions you have, or images to show as examples of a look you're wanting to achieve. If this is a starting consultation, do some research beforehand on what procedures or treatments you could ask about, or if this is a check-up after surgery, have some notes ready on how you have been healing and feeling post surgery.
Have a Good Internet Connection
There's nothing more frustrating than slow or patchy internet – especially when it cuts into consultation time! Make sure you have a strong internet connection that is able to clearly stream video calls. You may need to move to somewhere where the signal is stronger, and do a test call to a friend or family member to make sure everything is working.
Ensure You Have Good Lighting and Low Background Noise
In order to get an idea of what potential procedures you could have, or to check on how you're healing post surgery, it's important for Dr. Rizk to be able to see you properly. Find an area with plenty of natural light, without too much direct sunlight or shadowing. Don't forget to make sure you're in a quiet spot too – so you can hear Dr. Rizk, and he can hear you.
Use a Quality Camera
Many smartphones and laptops have very high quality cameras these days. However, if you are using an external camera, such as a webcam, make sure it has a high quality video, able to show at 1080p/HD resolution – especially if Dr. Rizk needs to view certain parts of your face or neck to make an assessment, or see how you are healing after surgery.
Book Your Virtual Consultation With Nyc's Top Facial Plastic Surgeon
With the quick adoption of virtual consultation, we can continue to offer world-class service to our patients – changing lives and making dreams come true with one of New York's top plastic surgeons, using the latest advancements in facial plastic surgery techniques.
If you would like to book a consultation with New York facial plastic surgeon Dr. Rizk, contact us at Manhattan Facial Plastic Surgery today.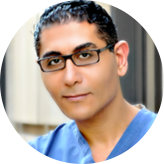 By Dr. Sam S. Rizk, M.D., FACS.
Dr. Rizk is a double board-certified facial plastic surgeon who specializes in rhinoplasty surgery and a recognized expert on the latest advances in facial plastic surgery techniques. He performs a range of facial plastic surgeries at his New York practice.