The TikTok "Lip Flip" Trend
Posted by Dr. Sam Rizk March, 03/30/2022 - 04:56 PM
We live in a world where social media either feeds our insecurities or boosts our self-confidence. There seems to be no middle ground, especially when considering the comments on viral cosmetic procedure videos such as the "lip flip" on TikTok. There's plenty of judgment out there, but Dr. Sam Rizk is here to clear up a few things about this latest cosmetic trend.
Relax And Smile
The "lip flip" is a minimally invasive cosmetic procedure that involves injecting a neurotoxin (Botulinum Toxin Type A), such as Botox, Dysport, or Jeuveau into the top lip. This relaxes orbicularis oris muscle, causing the top lip to "flip" outwards, giving the lip a fuller appearance and pouting smile.
The cosmetic treatment is a quick and easy way to boost the confidence of individuals who want to change the shape of their lips to be more appealing. The procedure itself takes 2 to 3 minutes to perform, even though it takes up to a week for the full results to be visible.
Additional injections are required every few months since the effects of the "lip flip" procedure wear off in about three months.
The "Lip Flip" Is A Personal Choice
People often think of cosmetic procedures as something that only celebrities do, but this is not the case. Many ordinary individuals consult with world-renowned facial plastic surgeon, Dr. Sam Rizk for a diverse array of cosmetic procedures.
While it is rumored that celebrities like Kylie Jenner and Kim Kardashian have benefitted from "lip flip" procedures, Dr. Rizk believes that the choice to enhance your appearance is personal, and one that should be respected irrespective of status. He only performs cosmetic treatment at his New York office on patients who consult with him out of their own choice and desires, and not that of others.
Revealing Statistics
With the American Society of Plastic Surgeons statistics revealing Botulinum Toxin Type A cosmetic treatment as one of the top five minimally invasive cosmetic procedures performed in 2020, you can be sure that the "lip flip" will continue to grow in popularity. Irrespective of whether it is the latest TikTok trend coming up in your "for your page" recommendations.
Work With A Board-Certified Professional
Dr. Rizk, a double board-certified facial plastic surgeon in NYC stresses the importance of working with a qualified professional who is experienced in injecting neurotoxins to minimize risks and side effects. These risks include bruising, swelling, and infection.
Dr. Rizk advises that you ask to see before and after photographs of "lip flip" procedures performed and research the facility to ensure that your choice of professional, and procedure, is an informed one.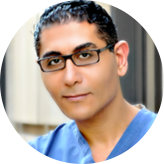 By Dr. Sam S. Rizk, M.D., FACS.
Dr. Rizk is a double board-certified facial plastic surgeon who specializes in rhinoplasty surgery and a recognized expert on the latest advances in facial plastic surgery techniques. He performs a range of facial plastic surgeries at his New York practice.