Why Virtual Consultations Will Stay With Us After COVID-19
Posted by Dr. Sam Rizk August, 08/12/2020 - 03:25 PM
A the coronavirus continues to erupt across the world, businesses of all kinds have had to adapt to a new way of life, and the medical world is no exception. For a while, the U.S. came to a standstill, wondering what to do in light of this new crisis. But, as we all know, the show must go on!
This is one of the key reasons surgeons started offering virtual consultations.
At Manhattan Facial Plastic Surgery, Dr. Rizk knows how frustrating it must be to have your appointments canceled. As a result, he has set up the opportunity for patients to book in for a virtual consultation to continue providing them with the quality of care they deserve. But, what will happen to these virtual consultations once things go back to normal? Let's take a closer look.
Why Virtual Consultations Are Here to Stay
While plastic surgeons had to think on their feet in order to continue tending to their patients, this new form of consultation has proven to be extremely effective. Here are some of the key reasons Dr. Rizk believes that virtual consultations will stay with us after Covid-19:
They Make Access to Plastic Surgeons Simple
Booking an appointment with a plastic surgeon takes time out of your day. When you book a physical consultation, you have to schedule your day accordingly. Virtual consultations, on the other hand, are simple. You book online or via phone, and you undergo your consultation from wherever suits you.
Travel Costs Are Automatically Removed
Some patients travel halfway across the world for a consultation with Dr. Rizk. While the travel costs are well worth the trip, they're not entirely necessary. Virtual consultations will give you a chance to do everything remotely until you're truly ready to book your surgery. In some cases, this will save you thousands of dollars.
You Won't Have to Travel for Every Check-Up
It's not only the cost of travel that can take a toll. The time off work, away from family, or simply the stress of going back and forth to your surgeon can lead to unnecessary stress. Virtual consultations cut this travel time in half. And, it's not only the initial consultation that you can do online. Some post-operative check-ups can be performed without you having to leave the comforts of your home.
Telemedicine Regulations Have Changed
Because of the recent pandemic, the government has changed the rules in regards to telemedicine services. One important change is that insurance reimbursements for telemedicine appointments can now be covered. Moreover, HIPAA data privacy rules have changed, meaning patients can now have video calls via popular applications such as FaceTime and Skype.
Book Your Virtual Consultation With NYC Facial Plastic Surgeon, Dr. Rizk Today!
While the proliferation of virtual consultations was not planned, this new form of patient-doctor meeting is proving to have its own unique set of benefits. As a result, it would make sense for the availability of telemedicine to continue, even as we pass through these difficult times.
If you would like to book a consultation with New York facial plastic surgeon, Dr. Rizk, contact Manhattan Facial Plastic Surgery today.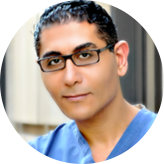 By Dr. Sam S. Rizk, M.D., FACS.
Dr. Rizk is a double board-certified facial plastic surgeon who specializes in rhinoplasty surgery and a recognized expert on the latest advances in facial plastic surgery techniques. He performs a range of facial plastic surgeries at his New York practice.