Dr. Sam Rizk is a world-renowned double board-certified facial plastic surgeon to many celebrities for celebrity nose jobs and facelifts. More recently, Real Housewives of New Jersey newcomer, Jennifer Fessler (age 54) approached Dr. Rizk for consultation on the best way to rejuvenate her appearance. She's been considering a facelift since her late 40s when the 'turkey wattle' and jowls became more obvious to her. After consulting many surgeons she chose to approach Dr. Rizk on the recommendation of fellow RHONJ, Deloris Catania.
Aging can have an immense effect on one's facial appearance, especially in the case of celebrities who are in the public eye. In Jennifer's case, with age came wrinkles, sagging skin around the eyes and forehead, and a drooping nose.
Facial Rejuvenation Consultation
"He carefully examined every detail of my face. He explained why a deep plane facelift would be the most effective way to give me a more defined jawline and reduce my jowls. Additionally, he recommended a platysmaplasty1 procedure to tighten the muscles in my neck. When I brought up my nose, he pointed out subtle changes that I hadn't noticed before, such as certain parts that had sunken in slightly. After seeing this for myself, I knew that I needed to address this issue in order to achieve the youthful, lifted look I desired. Furthermore, with his expertise and advice on making it slightly narrower too – as it would better fit with the overall shape of my face – I left feeling confident that I'd made the right decision in choosing him to perform my surgery." – Jennifer Fessler on her consultation with Dr. Rizk.
Real Facelift Client Results – Before & After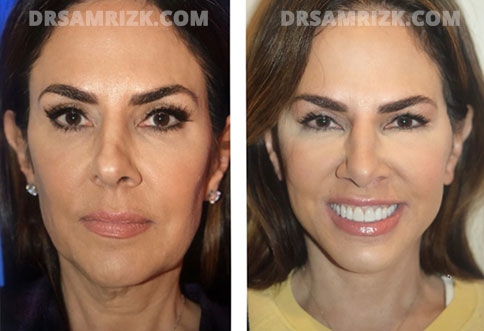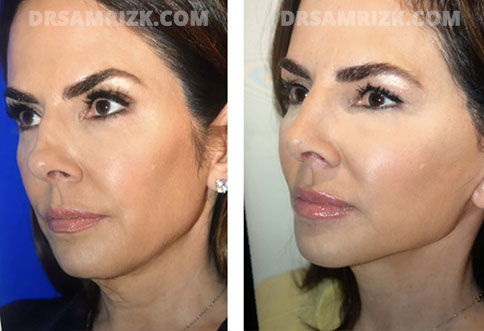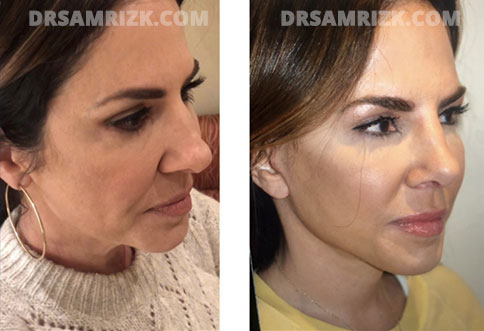 Dr. Rizk's Facial Rejuvenation Surgical Recommendation
When it comes to facial rejuvenation2, combining a deep plane facelift, rhinoplasty and neck lift can be extremely beneficial. In the case of Jennifer Fessler, Dr. Rizk recommended the following:
A deep plane facelift to elevate the mid and lower face to provide a more youthful appearance. It also tightens facial muscles and reduces wrinkles and lines for a smoother complexion.
A rhinoplasty to lift and refine the droopy nose tip, creating facial harmony by improving facial balance and symmetry.
A neck lift to add more definition to the jawline to create a more natural-looking and youthful appearance.
Plastic Surgery Recovery and Results
When complementing procedures such as a facelift, rhinoplasty, and a neck lift performed by a skilled plastic surgeon like Dr. Rizk, patients can be assured of a smooth healing process and natural-looking results that will last for many years to come. Also, the use of no drains speeds up the healing and reduces post-op pain and swelling. The patient spent her first two days post-surgery at a Hotel with a nurse and Dr. Rizk did his follow-up visit the day after surgery.
Jennifer Fessler's plastic surgery recovery was quick:
Day 1 – slight bruising
Day 3 – results already visible and minimal discomfort, able to move around the home
Day 7 – applied makeup and ran a few errands
Day 10 – attended a Super Bowl Party with the Real Housewives of New Jersey cast
Jennifer Fessler Was Back on TV, 14 Days Post-op!
Results two weeks after undergoing a facelift, rhinoplasty, and neck lift surgery – as seen in our celebrity facelift before and after photos, are:
A defined jawline
A more refined nasal tip
Youthful facial profile
Enhanced facial harmony
A smoother and more toned facial appearance
The patient is absolutely obsessed with her results, and it's to be expected when you work with the best facial plastic surgeon in NYC, Dr. Sam Rizk! Book your consultation today.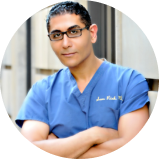 By Dr. Sam S. Rizk, M.D., FACS.
Dr. Rizk is a double board-certified facial plastic surgeon who specializes in rhinoplasty surgery and a recognized expert on the latest advances in facial plastic surgery techniques. He performs a range of facial plastic surgeries at his New York practice.