Drooping Nose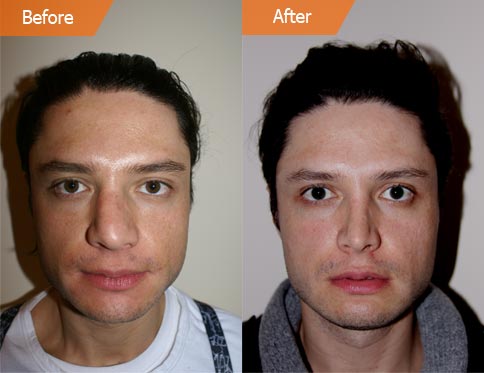 *Results may vary.
View More Photos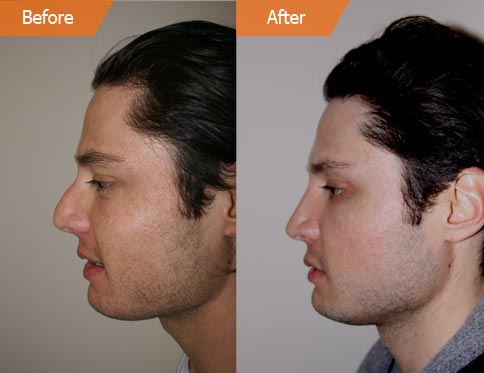 *Results may vary.
View More Photos
Dr. Rizk frequently consults with patients in New York who are dissatisfied with their appearance due to a drooping nose, a common complaint heard by nose job surgeons. Also known as nasal tip ptosis, this condition can be caused by a variety of factors. As such, there are a number of techniques that plastic surgeons utilize to address a drooping nose.
Causes of nasal tip ptosis:
An elongated nasal septum or bridge
Excessive cartilage in the tip of the nose
Age (with age, the connective tissue and ligaments of the nose begin to lose their elasticity causing the tip of the nose to droop)
Abnormally strong muscles below the nose that pull the tip down when smiling
A previous nose surgery (in some cases, a poorly performed rhinoplasty may result in loss of adequate nasal tip support)
Trauma due to an accident or sports injury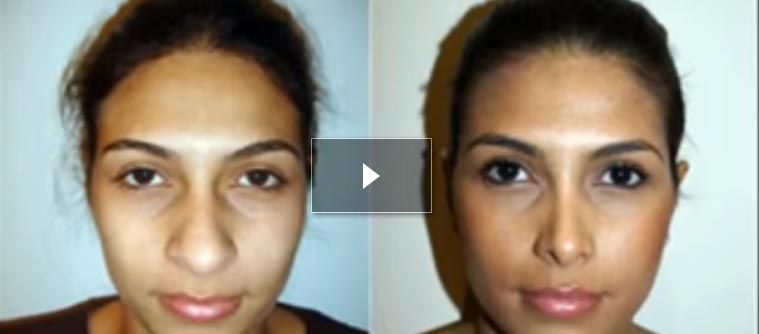 Our doctor will determine if you suffer from nasal tip ptosis by taking measurements of your nose, in particular the nasolabial angle (the angle formed between the nasal tip and upper lip). In men, the angle that is considered cosmetically ideal is about 90°. In women, the nasolabial angle should ideally be between 95 and 105°. If you decide to undergo rhinoplasty to correct a drooping tip, one of the main objectives will be to correct the nose so that the nasolabial angle is closer to the ideal degree.
Dr. Rizk can improve the appearance of a drooping nose by utilizing a variety of techniques. Some patients see great improvement through non-surgical treatments, such as the use of Botox or injectable fillers (e.g. Radiesse or Restylane). The use of injectables provides an alternative to invasive nose surgery, but the treatment must be repeated to maintain results. Patients seeking a more permanent solution or who require a greater amount of revision may opt to undergo a nose job. After carefully examining your nose, our doctor will plan a unique approach to improve your nose through nose surgery.
The following are some of the techniques Dr. Rizk frequently utilizes during a rhinoplasty to correct nasal tip ptosis:
Reduction and/or repositioning of the lower lateral cartilage of the nose
Placement of grafts to lift and redefine the nasal tip
Implantation of a columella strut to lift and support the nasal tip
Suture techniques to correct over- or under-projection of the nasal tip
Trimming the septal cartilages
There is no single approach that universally corrects a drooping nose, as each nose is unique and there are a variety of causes of nasal tip ptosis. Therefore, it is important to work with a doctor who is experienced in correcting this complaint on a wide variety of patients. When looking for a doctor in NYC, you should view before and after photos of patients who have had undergone a nose job to correct nasal tip ptosis before picking your doctor. Dr. Rizk is one of the most experienced doctors in Manhattan and has been helping his patients correct the form and function of their nose for many years. To learn more about how our doctor can help correct your nasal tip ptosis, please contact our New York office today.
Click Here For More Information