Indian Rhinoplasty
A rhinoplasty performed on an Indian patient has the same goal as a rhinoplasty performed on any patient of any ethnic origin – to improve and enhance the nose, while preserving the individual's unique ethnic or cultural heritage. There are some additional challenges when performing a rhinoplasty procedure on Indian patients, as their noses vary significantly between individuals and exhibit a variety of ethnic characteristics. Common traits may be seen from certain geographical areas of India or may be associated with family lineage. As such, surgeons who perform ethnic rhinoplasty on Indian patients must be aware of the variety of traits present among this group and not attempt to apply one standard when shaping and refining an Indian nose. Thanks to his central location in NYC, Dr. Rizk has had great exposure to patients of Indian descent who come from NJ and surrounding areas to benefit from his expertise.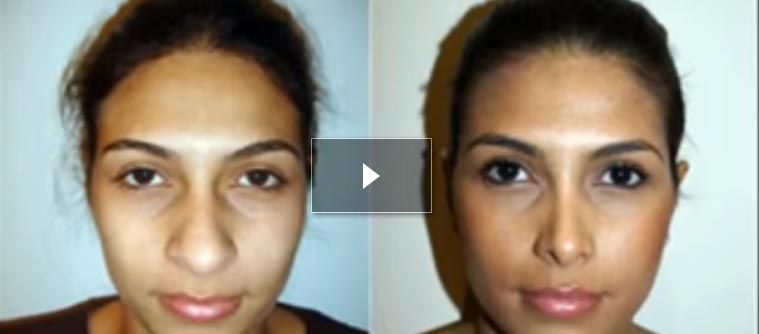 NYC, Dr. Rizk has had great exposure to patients of Indian descent who come from NJ and surrounding areas to benefit from his expertise.
Indian patients who seek rhinoplasty usually desire to improve their appearance without erasing their cultural identity. Typical requests heard by Dr. Rizk include reducing a nasal hump, elevating the nasal bridge, removal of a bump, lifting the nasal tip or correcting nasal droop, correcting an asymmetry, and refining or narrowing the nostrils. These changes cover a wide spectrum and overlap with many of the common requests voiced by other ethnic groups as well as Caucasian patients. Thus, Indian ethnic rhinoplasty requires a highly experienced and skilled doctor who understands his patient's concerns and is able to shape a nose that enhances the face while preserving their ethnic heritage. These requests must be considered with the patient's entire face in mind. Further, Dr. Rizk typically takes the patient's height and build into consideration as well. For example, a taller Indian male may benefit from a stronger, more elevated nasal dorsum than a shorter male.
Beyond the wide variety of revisions common in Indian rhinoplasty, there are additional challenges associated with rhinoplasty for this ethnic group. Indian people tend to have wider noses than Europeans and thicker nasal skin. The wider nose must be respected when making revisions so that the reshaped nose appears natural on the face. Refining the nasal tip of Indian patients can also be more challenging, due to the thicker nasal skin. Anytime a prominent hump is addressed, extra attention is required. The hump may appear more prominent due to a number of factors, including a drooping tip and weaker tip cartilage. The surgeon must be able to identify these factors in order to successfully remove the hump. In order to produce a favorable outcome, the plastic surgeon must be familiar with the anatomical differences so they can create a nose that looks natural on the patient's face. Since many plastic surgeons are trained to perform rhinoplasty on Caucasian patients, success performing any ethnic rhinoplasty requires additional experience and training.
If you are considering rhinoplasty, you'll want to find the best nose job surgeon for you. One way to find a surgeon who can provide you with the best results is to view before and after photos of patients from a similar ethnic background and age. From these photos, you'll be able to gain a sense of the surgeon's aesthetic ideals and decide if your sensibilities are compatible. To learn more about undergoing a nose job with Dr. Rizk, please contact our office to set up an initial consultation.
Indian Rhinoplasty FAQ
What is Indian Rhinoplasty?
Individuals of Indian decent who are dissatisfied with the appearance of their nose tend to list complaints such as thick nasal skin, a poorly defined nasal tip, and a wide nasal profile. As such, they may seek to change the appearance of their nose via rhinoplasty, which is also known as a nose job. Because each ethnicity has its own general nasal appearance and facial structure, cosmetic procedures performed for altering aesthetics is a daunting and specialized task. Dr. Sam Rizk is an expert rhinoplasty surgeon with years of experience in helping those of Indian descent, both abroad and locally in NYC, achieve their desired appearance. Dr. Rizk's skilled hands and aesthetic eye allows him to understand how each nose will harmoniously match the patient's facial characteristics.
Why do people undergo this procedure?
Many patients opt for ethnic rhinoplasty surgery in order to conform to the dominant standards of beauty and boost their self-confidence. Dr. Rizk has highly specialized techniques for dealing with ethnic noses and continues to receive high numbers of Indian patients wanting to alter their nasal profiles.
How does it work?
Depending on the patient's facial profile, carefully constructed cartilage grafts are implanted to provide more definition and alter lines and bumps for a more natural look. Dr. Rizk uses his personally developed techniques to understand the highly individualized characteristics of each patient, and caters his procedure to match their needs. Sutures may be used to narrow certain areas of the nose, while fat is removed from areas to provide a more pronounced look. All of these alterations can be performed with only a few incisions inside of the nasal cavity.
What's the operation like?
Patients are asleep for the entire procedure and will wear a cast after the operation. Some patients may feel some mild pain or discomfort, which can be alleviated through prescription medication. There will be mucous seepage in conjunction with mild swelling, which should subside within a week. Patients are generally able to return to their normal (non-physically taxing) activities within a week, thanks to Dr. Rizk's advanced fast-recovery techniques.
What about scarring?
Scarring due to rhinoplasty is extremely rare and virtually undetectable. Most incisions are made inside of the nasal cavity, hidden from visible sight, and are guided by small and advanced instruments. In open rhinoplasties, a single incision is made below the nose between the nostrils. This incision, however, typically heals extremely well and leaves no visible scar.
Is this procedure right for me?
Dr. Rizk has had patients come in from around the world to see him, and creates special plans to ensure a safe and effectual travel plan and surgery. Do not be discouraged if you live outside of the immediate New York area – there is no substitute for the expertise and capabilities you will find with Dr. Sam Rizk. He has worked on hundreds of patients from various cultures and understands how best to complement the nose to the face. Contact his office today to determine if you are a suitable candidate for a revision rhinoplasty with Dr. Rizk.
Written by Dr. Sam Rizk