Ready to get the best results for your procedure? Make sure you follow Dr. Rizk's instructions before and after – they're key to helping ensure a speedy recovery and giving you that dream result! To guarantee success, it may be a good idea to familiarize yourself with your specific procedure instructions which can be found below- this way you'll be prepared when discussing them further during any of your consultations or appointments before surgery or treatment. As always, we are here to answer any questions that may come up.
Dr. Rizk's Surgical Instructions for Best Results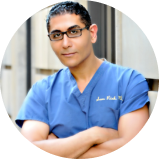 By Dr. Sam S. Rizk, M.D., FACS.
Dr. Rizk is a double board-certified facial plastic surgeon who specializes in rhinoplasty surgery and a recognized expert on the latest advances in facial plastic surgery techniques. He performs a range of facial plastic surgeries at his New York practice.