Middle Eastern & Mediterranean Rhinoplasty
As with other ethnicities, there is a unique set of features associated with Middle Eastern and Mediterranean noses. When considering rhinoplasty, it is very important to find a nose job surgeon who has specific experience with your demographic. Dr. Sam Rizk specializes in ethnic rhinoplasty and has developed techniques and approaches to specifically address the cosmetic needs of different ethnic and cultural groups. There are large numbers of people of Middle Eastern and Mediterranean descent living in New York and many of them turn to Dr. Rizk when considering rhinoplasty. Fluent in Arabic, Dr. Rizk often performs Arabic nose jobs on patients from NYC and beyond, some of whom travel to the USA to benefit from his superior work.
One of the distinguishing features of the Mediterranean and Middle Eastern nose is a prominent nasal bridge. In many cases, a high dorsum is also accompanied by a drooping nasal tip, which can cause the nose to appear disproportionately elongated. When performing rhinoplasty on patients from these ethnic groups, common revisions include refining or reducing a nasal hump, lifting the nasal tip, correcting a drooping nose, and narrowing the nostrils. All of these revisions will enhance the patient's profile and provide a more harmonious, balanced look. Correction of a prominent hump can be quite complicated, as many factors can contribute to the appearance of the hump. During the initial consultation, our doctor conducts a thorough assessment to determine how the bridge and tip of the nose contribute to the hump. When Dr. Rizk works with any patient, he also takes the entire face into consideration before determining which revisions are necessary.
To provide the best rhinoplasty to patients of Mediterranean and Middle Eastern descent, the surgeon must be aware of the unique rhinoplasty challenges associated with this particular ethnic group. People from these ethnic groups tend to have thicker nasal skin and poor cartilage support. Thicker skin can cause the nose to appear larger than average and also poses specific challenges in the operating room. Dr. Rizk's experience operating on patients with thicker nasal skin gives him the skills necessary to refine and sculpt the noses of Mediterranean and Middle Eastern patients. Poor cartilage support can produce the appearance of an ill-defined nasal tip, provides for a weaker base during the rhinoplasty, and may pose challenges when creating nasal grafts. In addition, thicker nasal skin makes refining the nasal tip more difficult. Fortunately, Dr. Rizk is well equipped to handle any of these challenges.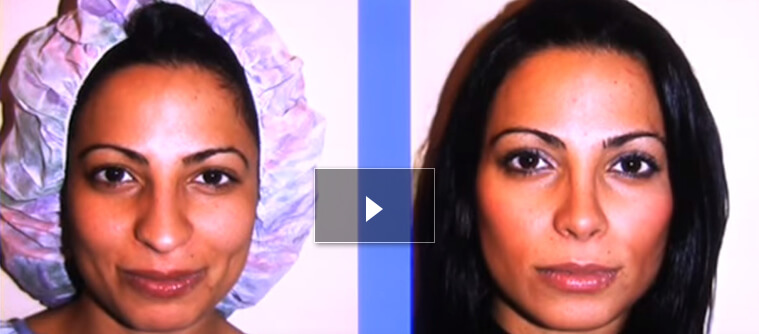 The unique characteristics of Middle Eastern and Mediterranean noses must be preserved during rhinoplasty. The goal of ethnic rhinoplasty is not to erase distinguishing features, but rather to maintain the ethnic identity while enhancing the patient's overall appearance. For an ethnic rhinoplasty to be successful, the surgeon must understand the characteristics and features common to a particular ethnic group, be aware of the surgical challenges faced by the group, and have a keen aesthetic sense. Dr. Rizk's extensive experience working with patients in NY from a variety of ethnic groups has provided him with the skills necessary to perform a successful rhinoplasty. If you are interested in learning more or wish to set up an initial consultation, please contact our NYC office today.
Click Here For More Information