Blepharoplasty in NYC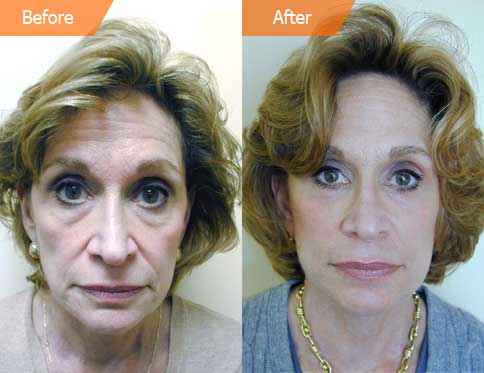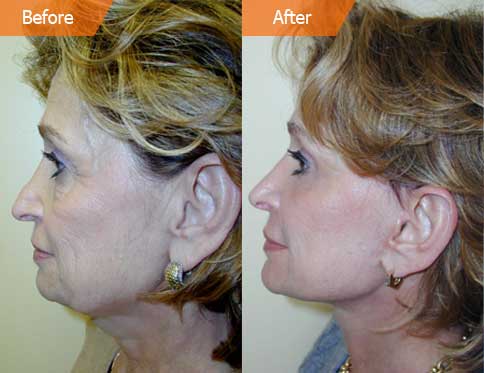 Blepharoplasty, also known as eyelid surgery, can improve the appearance of the eyes by removing excess skin and fat from above and/or below the eyelids. An eyelid lift in NYC can help correct functional problems of the eye (functional blepharoplasty), as well as aesthetic issues (cosmetic blepharoplasty). Regardless of the motivation, the surgery is performed using similar techniques.
Dr. Rizk, a double board-certified top NYC blepharoplasty surgeon, favors minimally invasive techniques to remove excess skin and fat, which can rejuvenate the upper and lower lids. An international lecturer and renowned blepharoplasty expert, he is a fellow of the American Academy of Facial Plastic and Reconstructive Surgery and one of the biggest innovators in the world of facial plastic surgery.
The Ideal Candidate for Blepharoplasty Surgery
Candidates for blepharoplasty in New York should be in overall good health, have healthy facial tissue with good skin elasticity, and have realistic expectations about the results of their eyelid surgery. Some individuals cannot undergo an eyelid lift, including those with certain serious eye conditions and other medical risk factors.
Issues that Can Be Addressed with Blepharoplasty Surgery
Candidates for blepharoplasty typically wish to improve the appearance or function of their eyes by correcting the following:
Droopiness, puffiness, and/or bags under the eyes
Excess fat that manifests as puffiness in the upper eyelids
Sagging or lax skin that results in skin folds and disrupts the natural eyelid contour, which may also impair vision if the eyelid droops over the eye
Excess skin and fine lines on the lower eyelid
Droopiness of the lower eyelids, which may lead to visible white spots below the irises
During your initial consultation, Dr. Rizk will examine your medical history and discuss your goals to help you decide if blepharoplasty is right for you.
Blepharoplasty Surgery Explained
As we age, the upper and lower eyes develop loose skin and excess fat that creates puffiness. Blepharoplasty surgery in New York can restore puffy, sagging or tired-looking eyes by removing excess fat, skin, and muscle from the upper and lower eyelids.
The procedure is usually performed in as little as 45 minutes. It can be combined with a facelift, neck lift or Botox® to raise the eyebrows or reduce the appearance of wrinkles, crow's feet or dark circles under the eyes.
Blepharoplasty can be performed on the upper eyelids, the lower eyelids, or both at the same time. Your facial plastic surgeon will choose from a variety of techniques based on the area being treated.
Dr. Rizk's New York eyelid lifts are performed under general anesthesia or a combination of sedation and local anesthesia. He carefully marks your skin to indicate where excess skin and fat pads will be removed. Then, he makes very precise incisions along the natural folds of the eyelid so the incisions will be unnoticeable once they have healed.
Lastly, tissue glue or sutures are carefully applied to help reshape and smooth out the area around the eyelids. For patients who also suffer from droopy eyebrows, eyelid surgery may be combined with a brow lift to elevate the eyebrows and enhance the appearance of the eyes.
After your surgery, your New York eyelid lift expert will give you specific instructions on how to take care of your healing face. Typically, it is recommended that you apply an antibiotic ointment and use cold compresses at regular intervals throughout the day.
What You Can Expect After Eyelid Surgery
Most patients are able to return to their normal activities within one week, looking more refreshed and youthful. In the majority of cases, patients experience only mild discomfort after a blepharoplasty procedure in New York, which can usually be managed with over-the-counter pain medication.
Your facial plastic surgeon will give you a complete set of instructions to follow before and after the procedure. Strict adherence to these instructions will help you recover more quickly and experience an optimal outcome.
Risks Associated with Eyelid Lift Surgery
As with all surgeries, an eyelid lift carries with it a certain amount of risk. Potential complications include:
An adverse reaction to anesthesia
Risk of infection
Temporary inability to fully close your eyes
Increased dry eye
During your initial consultation, Dr. Rizk will help you understand the benefits and potential complications so you can decide if eyelid surgery is the right choice for you.
Why Choose Dr. Rizk for Your Blepharoplasty Technique
Dr. Rizk employs an advanced, scarless technique using an incision inside the lower lid (transconjunctival). He reduces wrinkles with laser surfacing or skin excision, depending on each individual case. Dr. Rizk is a double board-certified facial plastic surgeon who specializes in plastic surgery of the eyes, brow, face, and nose so he can help you identify the best approach to help you achieve your aesthetic goals.
In addition, Dr. Rizk published his techniques, unique analysis algorithm, and treatment of the lower lid in the Plastic and Reconstructive Surgery Journal (2003). His article on blepharoplasty speaks about making eyes look youthful and not hollow using his innovative approach. If you want to learn more about Dr. Rizk's innovative NYC blepharoplasty procedures, contact his office and book an appointment today.
FAQ
What are the signs of aging eyelids?
As we age, the upper and lower eyes develop loose skin and puffiness. The quality of the skin also changes and often becomes wrinkled, especially in thin-skinned people who have had extensive sun exposure. This can lead to crow's feet developing on the sides of the eyes as well.
Furthermore, puffiness under the eyes is hereditary and may occur at an early age from the weakening of the layer of tissue that holds the fat in the eye (orbital septum). As such, the fat may protrude through this weak layer and appear as puffiness under the eyes. An eyelid lift in NYC can help address these signs of aging and restore the skin's firm appearance.
What are some contraindications to having eyelid surgery?
Patients that have a history of thyroid disease, dry eye, or any ophthalmological disorder need to be evaluated and may not be good candidates for eyelid surgery. Medical clearance is always obtained to check the patient's medical condition and an ophthalmologic evaluation may sometimes be warranted if the patient has a history of eye disease or dry eyes.
What does a blepharoplasty do and how long does it last?
The procedure removes excessive drooping skin and sculpts, redrapes, or removes bulging fat. The outcome is younger appearing eyes that look brighter than before. Dr. Rizk's eyelid surgery results are impressive and typically long-lasting (up to 15 years).
How do I choose a surgeon?
Your best choice in selecting the right surgeon is to look for a double board-certified, experienced surgeon who specializes in facial plastic surgery. It is also preferable to choose a surgeon that has an artist's eye since this operation requires unique skills for making surgical incisions precisely to remove redundant skin and fat. Furthermore, it is recommended to get a reference from a friend who has had work done on their eyes or look for a specialist with a big portfolio.
How does Dr. Rizk's technique differ from the traditional approach to eyelid rejuvenation?
Dr. Rizk's technique for the upper and lower eyelids is based on achieving natural results, which avoids the "hollow eye look". To do this, Dr. Rizk conservatively removes some fat, while also sculpting remaining tissue with a laser and repositioning it to fill increases at the border of the eye and cheek regions.
Additionally, his eyelid incisions in the upper eyelids curve upwards on the edges to lift the corner hoods rather than place the incision lower in the crow's feet area, which may lower the eyebrow. Furthermore, he uses a laser to sculpt the fat pads in the upper eyelids rather than remove them, which avoids a hollowed appearance.
In the lower eyelids, Dr. Rizk favors the reduction of fat pads through the scarless transconjunctival approach (incision inside the eyelid, rather than on the outside), and fat sculpting with a laser and repositioning, again to achieve a natural contour, rather than older fat removal techniques.
For smoother results, the skin of the lower eyes and crow's feet is either lasered through a Fraxel CO2 laser or a pinch of excess lower eyelid skin is removed. Dr. Rizk published a landmark article in the Plastic and Reconstructive Surgery Journal and created an algorithm for the lower eyelids which combines newer treatments with older techniques. The article also discusses how to obtain excellent results and avoid ectropion or malpositioning of the lower lid.
What is laser blepharoplasty?
During a laser blepharoplasty in NYC, a laser is employed to change or cut some of the tissue. Dr. Rizk uses the latest Fraxel-CO2 laser technology both in cutting and sculpting the muscle and fat as well as to smooth the skin under the eyelids. The laser results in less bruising and swelling and is part of Dr. Rizk's rapid recovery protocol. In some cases, the laser is not recommended for use on individuals with darker skin. For more information on the Fraxel-CO2 laser, see the laser section of this website.
What is the upper blepharoplasty incision?
The upper lid operation should always have a fine, hairline incision placed in the normal crease of the eyelid, the one you have had since birth, where it will be mostly out of sight. If you have drooping skin on the outer aspect of the eye in the region of smile wrinkles, this can also be included in the excision.
This excision of lateral excess hooding has been modified by Dr. Rizk to lift the corner upwards and open the eye, rather than curve down, bringing the eyebrow down. This will leave a fine line in this lateral hood region. when they are absorbed.
Written by Dr. Sam Rizk
Last Updated On: 1/27/2020