What Causes a Broken Nose
A broken nose, also known as a nasal fracture, may be caused by a direct impact to the face. Common causes of this type of injury include falls, sports injuries, physical fights and car accidents. In some cases, extreme facial expressions – such as sneezing or coughing – can cause enough pressure to break the nose. Generally, the force of the impact causes damage to small bones in the nose and can cause the cartilage to tear or bend abnormally. Swelling and bruising are common after breaking one's nose, and a doctor should be consulted for treatment.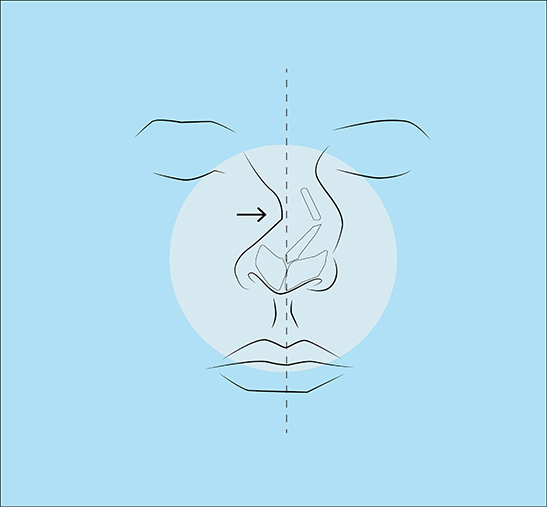 Broken Nose Symptoms
The symptoms1 and signs of a broken nose are typically pain, swelling, and bruising around the nose. Depending on the severity of the break, additional symptoms can include:
A cracking sound upon touching your nose
Difficulty breathing
Bleeding from the nose
Feeling as though you have an obstruction in your nose
A noticeably crooked or misshapen nose appearance
It is important to consult with a doctor such as Dr. Rizk because untreated fractures can result in long-term complications including chronic nasal obstruction, septal hematoma, septal abscesses, saddle deformity and chronic sinusitis. Additionally, your doctor may request an x-ray to determine the extent of the nasal fracture. Some people may require reconstructive surgery to restore their normal nasal shape and function.
How to Fix a Broken Nose
A broken nose can be fixed through either manual realignment or surgery2.
Manual Realignment
A broken nose3 can be manually realigned by performing a closed reduction, which is a medical procedure that realigns displaced bone fragments. Generally, the doctor will gently press on the bones of the nose to move them back into place. For your comfort, local anesthesia may be administered to numb the area. After the bone has been realigned, some swelling and bruising may occur but it should eventually subside. A splint may also be placed to help keep the nose from moving until it is healed.
Surgery for Broken Nose
Surgery to repair a nasal fracture is typically performed through either septoplasty or rhinoplasty. Septoplasty is a procedure that straightens and reshapes the nasal septum, which is the cartilage and bone between the nostrils. It may also involve removing part of the nasal septum if it's shifted out of place due to injury.
Rhinoplasty, on the other hand, focuses more on reshaping the entire nose to improve its appearance and symmetry. It involves making incisions inside and outside of the nose to gain access to the underlying nasal structures which can be then reconstructed or altered to create a more desirable shape. Both procedures typically involve administering anesthesia and some degree of alteration of both bone and cartilage to repair any fractures or damage caused by trauma.
Broken Nose Surgery Recovery Time
The recovery timeline for broken nose surgery varies depending on the severity of the injury and the type of procedure performed. Generally, patients may experience some pain and swelling in the days following surgery. Most patients can return to their normal activities within a few days and resume more strenuous activities within 1- 2 weeks. In some cases, patients may require up to 3 weeks off work or school to recover fully.
If a cast was used during surgery, it will usually be removed after 1- 2 weeks. At this time, any remaining swelling should begin to subside as well. It may take several months for the nose to fully heal, with full results visible within 6 months after the procedure.
During recovery, it is important to follow your surgeon's instructions for care, including taking prescribed medications as directed and attending post-operative appointments.
Meet Dr. Rizk, NYC Specialist Broken Nose Surgeon
Dr. Rizk is one of the best facial plastic surgeons to consult for treatment and care because of his experience and expertise in performing rhinoplasty procedures. He is highly trained, and his expert knowledge and understanding of facial structure and aesthetics allow him to provide excellent results with minimal risks or complications.
Additionally, Dr. Rizk is double board-certified and committed to patient satisfaction. He offers personalized care before, during, and after every procedure so that patients feel at ease throughout their experience. Contact his Manhattan office for more information or to book an appointment.
Frequently Asked Questions
How long does a broken nose take to heal?
Depending on the treatment, a fractured nose typically takes 3 to 6 weeks to heal. It is important to keep the area clean and protected to avoid infection and ensure proper healing. You should also avoid blowing your nose or engaging in strenuous activity that may cause further damage while the nose is healing.
What are the long-term symptoms of a broken nose?
Long-term symptoms of a nasal fracture may include a deviated septum, trouble breathing, or an altered appearance of the nose.
How do you tell if a nose is broken or bruised?
You can tell if a nose is broken or bruised by feeling for tenderness, swelling, and deformity. Any injury to the face should be examined by a medical professional to be sure.
How do you know if a nose injury is serious?
Seek medical attention if you experience difficulty breathing, nasal discharge (blood or clear fluid), intense pain that does not subside after two days, significant swelling, or a change in vision following a facial injury.
Will a broken nose heal on its own?
Depending on the severity of the injury and individual response to treatment, a nasal fracture may require medical intervention and/or surgery, but in some cases will heal on its own with rest and conservative management.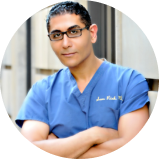 By Dr. Sam S. Rizk, M.D., FACS.
Dr. Rizk is a double board-certified facial plastic surgeon who specializes in rhinoplasty surgery and a recognized expert on the latest advances in facial plastic surgery techniques. He performs a range of facial plastic surgeries at his New York practice.