What Is Sinusitis?
Sinusitis is a very common condition that affects millions of people around the world. It occurs when there is inflammation in the sinuses, which are located between your eyes and behind your cheeks. This inflammation can cause a variety of symptoms including facial pressure, stuffy nose, headaches and fatigue. Sinusitis can be caused by allergies or colds, small growths called polyps, a deviated septum, or infection caused by bacteria, viruses or fungi.
While many people suffer from sinusitis rarely or infrequently, some people are afflicted by the condition much more regularly. In these cases, it may be recommended they undergo sinusitis surgery1 to alleviate their symptoms. NYC double board-certified facial plastic surgeon Dr. Sam Rizk can help you explore all possible solutions for managing sinusitis and eliminating pain.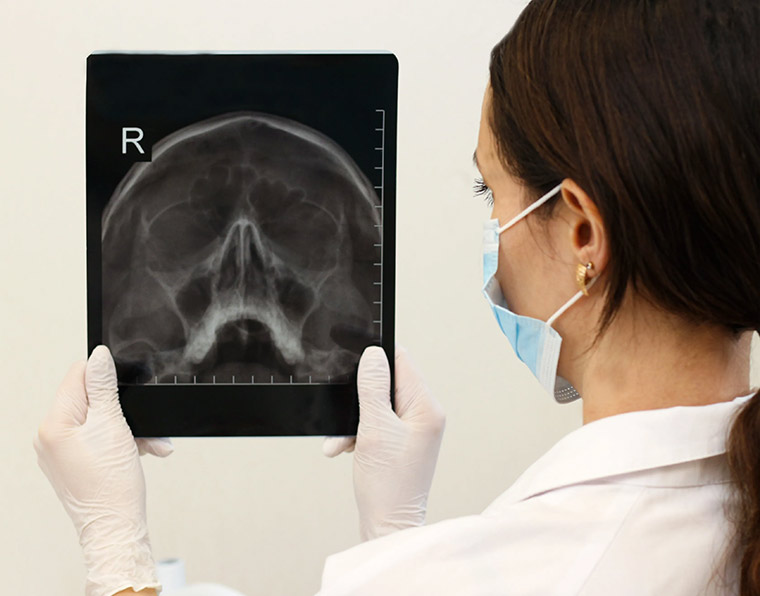 Can Sinusitis Be Fixed?
When people have been afflicted with chronic sinus infections that are resistant to non-surgical treatments such as decongestants and other therapies, their doctor or specialist may recommend they undergo surgery as a longer-term solution. While this rhinoplasty surgery may not be a permanent solution, it certainly helps patients to breathe freer and have a much higher chance of preventing sinusitis in the future, or better managing symptoms if the condition returns.
If recurring sinusitis is impacting your quality of life and you are considering surgery, contact our Manhattan office today for a consultation.
Sinusitis Surgery
Sinusitis surgery is a safe and effective procedure for treating chronic sinus infections that do not respond to medications. This minimally invasive rhinoplasty surgery helps improve drainage, ventilation, and breathing, and provides relief from congestion, facial pain, and other uncomfortable symptoms associated with sinusitis.
During the operation, small instruments are used to remove excess tissue and open up blocked passages so air can move more freely throughout the sinuses. Clearing the nasal and sinus passages allows mucus to drain normally, reducing facial pressure and pain, restoring the sense of smell, and making it easier to breathe.
Determining Cause & Treatment for Sinusitis
Because there are a number of causes of sinusitis, it is crucial to understand the root cause of the infection in order to treat it effectively and to help prevent recurrence. Treatment for acute sinusitis usually involves antibiotics and decongestants, while chronic sinusitis2 may require surgery if other treatments are not successful. Surgery may offer long-term relief from congestion and pain associated with this condition, making it an important option for those suffering from ongoing or recurring sinus infections.
Causes of Sinusitis
Polyps | Sinusitis Caused by Small Nasal Growths
Nasal polyps are small growths that can block the airways and sinus passages, which can lead to inflammation, pain, and congestion. These growths can cause significant discomfort and breathing difficulties if left untreated, and in some cases, lead to serious infection if not addressed promptly.
Infections and Allergies | Sinusitis Caused by Bacteria, Fungi or Viruses
Other nasal infections, colds, flu or allergies can irritate and inflame the sinuses, which thickens the sinus membranes and blocks mucus from draining properly. This can lead to a buildup of bacteria, fungi and viruses in the sinuses that often result in sinusitis.
Deviated Septum | Sinusitis Caused by Crooked Nose Cartilage
When the cartilage in the nose is crooked or off-center, this is known as a deviated septum. It can cause a variety of symptoms, as well as restrict or block the passages of the sinuses, which can make sinusitis worse.
Meet Dr. Rizk, Expert Sinus Surgeon in New York
Dr. Rizk understands how debilitating and frustrating chronic sinus infections can be, and is dedicated to helping his patients eliminate their pain and suffering. With decades of experience performing complex surgeries on the intricate structures of the face and nose, he is often cited as one of the best facial plastic surgeons in New York City. Many patients travel from all over New York and from out of town to experience Dr. Rizk's advanced surgical techniques and excellent standard of care.
If you suffer from chronic sinusitis, are considering surgery or would like to schedule a consultation with Dr. Rizk, please contact us or call (212) 452-3362.
Frequently Asked Questions
What are the risks or side effects of sinus surgery?
As with any procedure, surgery for chronic sinusitis can come with some potential risks and side effects, such as bleeding, swelling, reaction to anesthesia, or infection. Many of these can be minimized or eliminated with proper pre-operative preparation and post-operative care. Additionally, Dr. Rizk utilizes techniques to reduce the risk of injury to delicate structures surrounding the sinuses during surgery, resulting in a much lower rate of complications or side effects for his patients.
Is sinus surgery worth it?
For many people, sinus surgery is the choice they make after trying other medications and therapies to manage their chronic sinusitis. Most patients report a significant improvement in their quality of life after surgery, with fewer or no episodes of sinusitis. Ultimately, the decision to have sinus surgery is up to you and your doctor. Dr. Rizk and our team are here to answer any questions you may have about the procedure so that you can make an informed decision.
How much does sinus surgery cost?
Sinus surgery cost can vary depending on a range of factors, such as the type of surgery, how involved it will be, and any other procedures that may be combined with it. During your consultation, Dr. Rizk will conduct a thorough examination of your needs, as well as discuss pricing in full.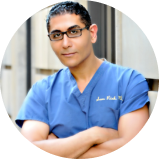 By Dr. Sam S. Rizk, M.D., FACS.
Dr. Rizk is a double board-certified facial plastic surgeon who specializes in rhinoplasty surgery and a recognized expert on the latest advances in facial plastic surgery techniques. He performs a range of facial plastic surgeries at his New York practice.